Personal Assistants are responsible for assisting an individual by managing daily tasks to ease their professional or personal life. Their duties include taking calls, answering emails, entering and storing information, travel for errands, scheduling appointments, and updating and maintaining policies and procedures. To be a Personal Assistant, a high school diploma/GED is preferred, a driver's license is required, and experience as a personal assistant or in administration is a plus. A Personal Assistant must demonstrate excellent verbal and written communication, interpersonal skills, organizational, time management, multitasking, customer service, administrative, detail-oriented, and basic computer skills.
A good resume is well-written and concise. It should be neat and easy to read, listing previous experience in a logical order.
Our resume samples will provide you with multiple examples of what you can include when writing your resume.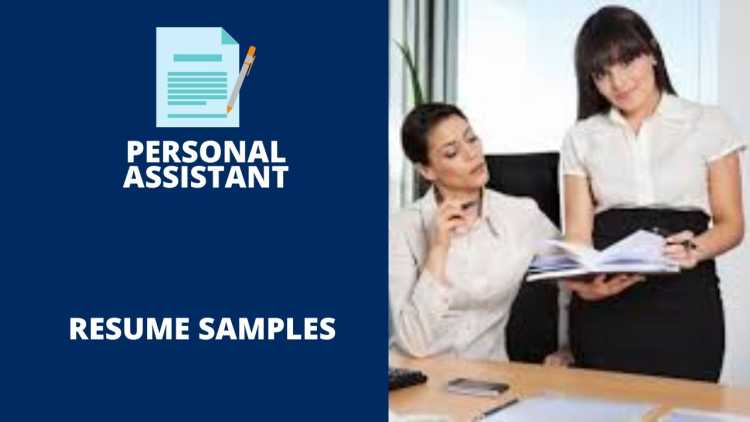 The Best Personal Assistant Resume Samples
These are some examples of accomplishments we have handpicked from real Personal Assistant resumes for your reference.
Personal Assistant
Managed emails, voicemails, incoming mail, prioritizing items that require immediate response.
Managed accounts payable/receivable and expense control procedures, including bank and account reconciliation, distributions, billings, invoicing, and preparation of daily bank deposits.
Planned the time table schedule of business, personal and weekends events.
Full charge house management (including completing grocery shopping and picking up dry cleaning).
Supported a Supervisor in the Banking Department by coordinating scheduling, shipping, and tracking trips.
Personal Assistant
Each day i walk in and i would continue on what i left the previous day i would file old documents where they belong, and label each and every folder.
I would organize and established files daily as well.
Making faxes is also a task i would do while working at Innovative Carriers.
Assisted Director of Operations with daily operations while managing personal calendar, travel and expense records, and logistic planning.
Trained staff members on proper filing techniques to improve department efficiency and reduce filing error rates.
Personal Assistant
Maintain leadership role and superb customer service.
Manager on Duty responsible for all duties of the store, including opening and closing procedures.
Give each shopper a unique, personal shopping experience and report daily to District Manager all net sales.
Transcribed monthly reports from audiotape for the Director of Operations; reviewed each report for accuracy before presenting to executives for review.
Promoted positive relationships with fellow employees; developed rapport through a sincere interest in others' lives.
Personal Assistant
Filed all documents for over 200 cases that improved the standardization of files.
Communicated with hospitals and doctor offices to get medical records and bills.
Reviewing medical bills and creating paid/incurred charts to be sent with demand packets.
Provided support to the Vice President of Business Development, his executive staff, and the accounting department.
Assisted in the preparation of educational materials for use by local school systems.
Personal Assistant
Organized personal and professional calendars, provided reminders during the week.
Completed home projects, including organizing and cleaning out closets, and rearranging the garage.
Managed vendor communications regarding problems and project installments.
Organized and managed a corporate travel schedule of one employee's daily activities.
Trained one salesperson on time management techniques.
Personal Assistant
I have been with this family for eleven years.
Schedule all medical and home maintenance appointments.
Took children to sport practice, summer camps and extracurricular activities.
Established rapport with teachers, coaches and medical providers.
Co-ordinating receptionist duties for over ten clients at an international university.
Personal Assistant
Assisting in recycling old office supplies and old case files.
Frequently taking care of the partner's homes, cars, animals and grandchildren when they are out of town.
Maintaining levels of specific office supplies and snacks for the office.
Organizing flowers for corporate events for two major corporations during peak season, including office parties, full-staff Christmas dinners, and executive golf tournaments.
Worked effectively with executive, clerical, and technical staff in a daily administrative/support job to ensure efficient and effective job performance.
Personal Assistant
Devise and maintain office systems to efficiently deal with paper flow, including producing documents, briefing papers, reports and presentations.
Attend business meetings while taking meeting notes, compiling meeting information and managing follow up items and tasks.
Managed all forms of professional & personal communication, including prioritizing incoming inquiries and requests from both phone and email correspondence.
Managed and maintain both personal and professional appointments as a direct liaison with clients, suppliers and other staff.
Participated in the recruitment of office personnel; developed a database of applicants by analyzing aptitude and personality factors. Prepared extensive resumes for staff selection.
Personal Assistant
Assisted small business, provide research and information gathering for projects, record keeping, mail-outs, screen phone calls.
Personal errands, transportation to medical appointments, travel arrangements, house sitting.
Coordinate social functions, assist individuals with social and business events.
Companionship for elderly, can take out for activities, grocery shop, cook home meals.
Selected, trained, and assigned employees to jobs; created a workflow for the development of superior departments within the organization.
Personal Assistant
Provided administrative support while improving productivity and organizational success.
Discussing client requirements evaluating needs to stimulate outstanding client satisfaction.
Created marketing material in collaboration with brokers and agents.
Managed logistics for meetings, travel and conferences.
Maintained efficiency by training new employees in assembly-line techniques, word processing, secretarial systems, and other document-related procedures that allowed for more accurate record-keeping in a file management system.
Personal Assistant
Ran errands such as completing grocery shopping and picking up dry cleaning.
Handled incoming and outgoing correspondences, including mail, email, and faxes.
Organized personal and professional calendars and supplied reminders of events.
Resolved customer disputes with internal departments.
Pioneered customer service by developing a relationship between the supervisor and customer.
Personal Assistant
Balance a to-do list that includes booking travel and hotels, and renting cars, for Valerie when she travels.
Performed tasks such as organizing sales leads from sales force, writing thank you notes to clients, and creating documents and spreadsheets.
Attend networking events with Valerie when she has a booth and needs help setting up and attracting potential clients to the booth.
Improved call accuracy on behalf of the department by 25 percent within 90 days of employment.
Improved the management process by coordinating staff meetings, opening, and closing conference rooms, maintaining conference room equipment, managing conference room reservations, creating department schedules with management input, and providing general administrative support to the team.
Wrap Up
You need to make sure your resume stands out amongst the other candidates. It is the first impression that employers have of your work experience and skills. Use the samples above to put together a resume that best suits your needs and helps you get the job you want.