The lead server in a restaurant is mainly responsible for training new employees. It includes serving guests, cash handling, cleaning, inspecting side work, training new employees and reporting. There is not a specific level of education required for this position in most restaurants. Lead servers must be on their feet for long periods of time, lift loads of up to 60 pounds, carry heavy trays, process credit cards, handle cash, use computer POS systems and communicate with guests.
A good resume is well-written and concise. It should be neat and easy to read, listing previous experience in a logical order.
Our resume samples will provide you with multiple examples of what you can include when writing your resume.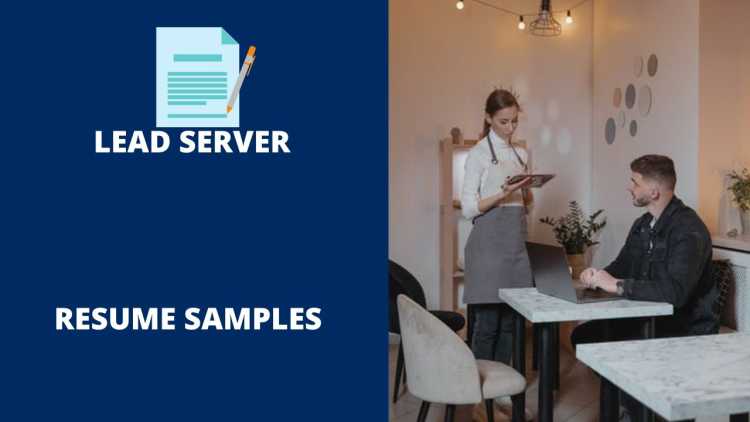 The Best Lead Server Resume Samples
These are some examples of accomplishments we have handpicked from real Lead Server (restaurants or hotels) resumes for your reference.
Lead Server
Managed in-person and telephone guest inquiries, customer service requests and reservation bookings.
Directed guests to their designated table, give them information about specials, handle requests and provide waiter with information.
Monitored dining room and guest flow to maximize table usage and minimize guest wait times.
Introduced a variety of new products & services to customers, while delivering exceptional customer service.
Determining effective pricing methods in conjunction with food and beverage markup to maximize sales and profits.
Lead Server
Provided exceptional customer service as a lead server for an upscale Mexican restaurant.
Duties include familiarizing guests with menu and daily specials, accurately recording food and drink orders, running multi-course meals, and tallying bills.
Additional duties included staff training.
Complete all opening and closing duties.
Completed all assigned duties in a timely manner.
Lead Server
Maintained professional and courteous demeanor while multitasking in fast paced environment.
Identified and responded to guests needs in a prompt time frame.
Conducted exceptional interpersonal and team building skills with an aptitude for building camaraderie among clientele, colleagues, and management.
Even when faced with occasional various labor dilemmas during extremely busy hours, always took time to provide solutions and solutions to those problems.
Led food servers in creating a clean, safe, and comfortable atmosphere in a fast-paced environment.
Lead Server
Maintain staff by recruiting, selecting, orienting, and training employees; developing personal growth opportunities.
Accomplish staff job results by coaching, counseling, and disciplining employees.
Maintain safe and healthy work environment by establishing and enforcing organization standards.
Complete operations by developing schedules; assigning and monitoring work, gathering resources, implementing productivity standards, maintaining reference manuals, implementing new procedures.
Even when faced with occasional various labor dilemmas during extremely busy hours, always took time to provide solutions and solutions to those problems.
Lead Server
Provided additional support for management team.
Consistently provide guests with superior hospitality, and train staff on hospitality standards.
Led trainings for staff on complex food, wine and cocktail menu to assist in upselling and proper recommendations for guests.
Genuinely cared about providing superior customer service – instinctively, which resulted in the continued growth of my clientele during difficult economic times.
Consistently met or exceeded the company's sales and service standards in retail food service.
Lead Server
Provided excellent patron experiences through phenomenal customer service, multi-tasking abilities, and interpersonal skills.
Recognized as having the highest sales averages among servers through suggestive upselling.
Promoted to shift leader and head trainer after consistently exceeding the sales goals of the organization.
Recognized with a "thank you" letter from the general manager for the positive impact I had on customer satisfaction while working as a lead server.
Awarded the opportunity to project manage and create a new customer marketing program; created and presented a three-month plan that increased menu sales by 29%.
Lead Server
As lead server I was responsible for the training and development of all new servers.
I was also in charge of reporting all sales and closing the restaurant at the end of each night.
I was always flexible with my schedule and willing to help out when needed.
Created and promoted new "healthy choices" menu options; helped to increase billable hours by 36% within six months.
Hosted and maintained a staff of five servers and two managers during shift managing responsibilities.
Lead Server
Assisted co-workers during rush hours to promote excellent customer service.
Informally recognized as lead server with responsibility for opening/ closing procedures.
Mentored and coached new servers regarding menu items, company policies and procedures.
Drafted and reviewed foodservice guides, policies, and procedures manual.
Attended four staff meetings, one department meeting, one department retreat, two director retreats, six in-service training sessions, and three monthly department socials.
Lead Server
Demonstrated teamwork by keeping an eye on my fellow server's tables and help out when possible.
Responsible for delivering excellent customer service.
Display knowledge of the food menu, wine & liquor menu, ingredients in specialty drinks, and liquor laws.
Participated in the hiring, training, evaluation, and management of all five employees.
Awarded serving position as Head Waitress over three co-workers who had served in that capacity for less time.
Lead Server
Food service at upscale, American fare restaurant.
Duties include familiarizing guests with menu and daily specials, accurately recording food and drink orders, running multi-course meals, and tallying bills.
Menu knowledge: Memorize details of daily specials, seasonal menu items and options, as well as rotating craft beer options.
Up-selling: Direct customers to meal add-ons and specialty drinks of perceived value to increase sales.
Developed and presented the proposal to implement a new beverage program and new menu. The program has contributed to higher beverage sales, increased customer retention, and increased revenue as well as net profit of the restaurant/bar.
Lead Server
Insure compliance with federal, state and local health and safety regulations.
Responsible for cleaning the kitchen and dining room.
Monitor general operations of the dining room activities as related to the meal program.
Improved operating efficiencies of a high-volume lounge by fifteen percent; recognized and awarded with the Top Performer Award.
Prioritized tasks and effectively manage time in serving customers while ensuring a brisk ticket turnover.
Lead Server
Worked both opening and closing shifts with frequent responsibility to verify and complete any and all required tasks for opening or closing the building.
I've frequently worked on technical issues for computer and POS systems; as well as extensive customer service experience including catering to large or V.I.P customers and groups, often special parties from a company or firm.
In this position I was responsible for profit and loss and had to maintain my own drawer on a daily basis.
Managed guests from behind-the-scenes to ensure high-level service and hospitality.
Developed positive working relationships with patrons and staff to develop a long-term clientele.
Wrap Up
You need to make sure your resume stands out amongst the other candidates. It is the first impression that employers have of your work experience and skills. Use the samples above to put together a resume that best suits your needs and helps you get the job you want.