An IT System Administrator sets up and maintains the operating system and servers of a company. Their duties include keeping servers functioning 100% of the time, making sure operating systems perform as required, protecting system security, staying within budget, upgrading components as needed, supervising staff, training staff, and providing technical support. Educational requirements include a bachelor's degree in computer science, IT, electronics engineering, or computer engineering; plus, certification in the system that their employer uses. Skills needed to be a successful IT System Administrator are problem-solving, stress tolerance, teamwork, training skills, communication skills, troubleshooting, management, and leadership skills.
A good resume is well-written and concise. It should be neat and easy to read, listing previous experience in a logical order.
Our resume samples will provide you with multiple examples of what you can include when writing your resume.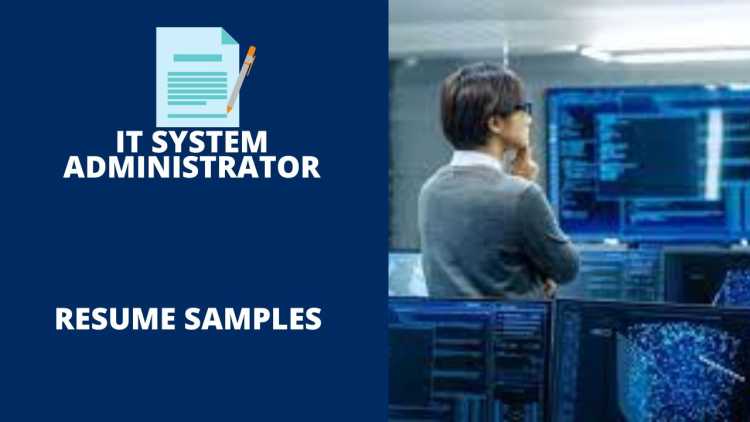 The Best IT System Administrator Resume Samples
These are some examples of accomplishments we have handpicked from real IT System Administrator resumes for your reference.
System Administrator
Administers IT Support relating to technical issues involving Microsoft's core business applications and operating systems including Windows Server, Exchange, Active Directory and SQL.
Responsible for creating, editing, maintaining configuration for routers, switches, and firewalls.
Provides remote end user support using tools such as: Bomgar, LabTech Screen Connect, vPro, VPN, and Terminal Services.
Developed and implemented quality assurance and incident management programs on a worldwide scale.
Optimized resources, office space, and end-user support while maintaining efficiency.
System Administrator
Provided technical expertise in developing and executing solutions to support business opportunities.
Assisted a wide variety of projects from inception to completion while ensuring projects meet business and customer goals, time and budget constraints, and SLA.
Support 90 clients at 340 locations with over 5000 computers in various Windows/Exchange environments.
Analyzed large amounts of data to achieve consistency through quality service.
Excellent customer service skills helped my company become number one in the industry; demonstrated ability to handle a high volume of phone calls.
System Administrator
Working within the IT Infrastructure department with a team of 4, managed, deployed and supervised over 250 server bases with platforms ranging from Windows 2003 to Windows 2012 R2 and over 200 workstations with platforms from Windows XP to Windows 10 Pro at any given time.
Directly responsible for all internal IT needs including invoicing, accounting and desktop support within a nationwide organization containing 200 users and over 3000 customer facing sites.
The IT Infrastructure team worked closely with Development to ensure claims processing stability.
Recovered and maintained system performance while also meeting availability requirements.
Programmed code for a website to scale larger and more traffic-intensive, in order to service over 10,000 hits per day.
IT System Administrator
Design, implement company's IT infrastructure, Hardware, Software, and Network.
Designed and Implemented processes to provide automation to the IT operation.
Researched new technologies efficiently, recommend the best course of action.
IT asset management, local and remote troubleshooting, training and supports.
Researched and installed hardware replacements for computers at remote locations.
System Administrator
Set up and maintain Hadoop cluster removing the need to depend on professional support.
Set up and maintain Green Plum database cluster giving the Analytics team more options for their processing of data.
Configured a development cluster for testing Docker, Kubernetes and Ansible.
Improvised methods of data storage in order to maximize the storage potential of a malfunctioning storage unit.
Restored system operations after a failed hard drive installation.
System Administrator
Implemented firewall content filtering, intrusion prevention, gateway anti-virus and deep packet inspection to help mitigate network attacks and malware intrusions that caused numerous hours of lost work time.
Performed advanced technical support for employees and members for workstation and mobile devices.
Led Safety Officer for UAIC, acting as a point of contact for employee concerns and safety issues.
Worked in an advisory role for issues regarding building code, ADA compliance, OSHA regulations and general workplace safety.
Assisted with coordination of software installation; serviced all organizational requests within 48 hours.
System Administrator
Ensure the availability, scalability, security, and performance of the VMware ESXi environment.
Identification and resolution of service level problems and the identification and support of mission-critical tasks.
Troubleshoot and fix hardware and software problems as they occur, troubleshoot and fix networking issues at the system level.
Build and deploy new work station. Dealing with Active Directory security issue.
Created virtual OS and install, setup for work station windows 2003, windows 2008, windows 10, and install service packages, licenses, anti virus.
System Administrator
Successfully built servers from scratch, installed, created and managed 100 Linux servers through virtualization (KVM, VMware) and configured Redhat. Enterprise Linux (RHEL7), centos6 & 7.
Installed VMware ESXi software which is a part of vSphere suite on bare metal and implemented several virtual hosts on top of that ESXi environment.
Installed Linux OS, and configured required linux network on the virtual machines.
Configured a kickstart server and used it to automate installation OS and deployment of servers on VMware, KVM.
Created a robust database to centralize subsidiaries' data by linking with Mainframe-based Enterprise-wide accounting system applications.
System Administrator
Installed software, modified and repaired hardware and resolved technical issues.
Diagnosed system hardware and software problems using advanced root-cause analysis.
Assisted with installation and maintenance of hyper-visor and stand-alone systems using rack mount C Series hardware.
Achieved award for perfect attendance and demonstrated expertise by successfully resolving issues on enterprise-wide firewalls.
Received highest customer satisfaction ratings from clients; troubleshot all errors within 4 hours after clients reported problems.
IT System Administrator
Provided leadership during any system-related outages.
Providing Incident communication to management, coordination with vendors, and root cause analysis.
Used centralized configuration and compliance management tools to perform patch management and security vulnerability remediation.
Monitored, controlled and enforced SOX Controls on all financial servers.
Won leadership award for creating automated work routines to ensure successful enterprise-wide implementations of new databases during large corporate mergers.
System Administrator
Responsibilities administration of the virtual infrastructure as well as various projects and day-to-day tasks.
Responsibilities may expand into day-to-day activities around Windows and Linux infrastructure.
Working in a multi-OS environment, windows, Linux, Mac and be responsive to all the needs of the organization.
Ensure the availability, scalability, security, and performance of the VMware ESXi environment.
Identification and resolution of service level problems and the identification and support of mission-critical tasks.
System Administrator
Developed and implemented several ITIL practices improving existing processes and increasing up 25% efficiency of them.
Reviewed, updated & developed company policies to data protection and we got in compliance with legal requirements.
Implemented cloud computing technology reducing the costs of data servers on site.
Implemented and maintained network, server, and software configuration for Internet-based enterprise-wide reporting.
Managed the installation of a new Windows Server 2008 R2 server with SQL Express, Directory Server, VPN Client, DHCP Server, and CCTV security camera.
Wrap Up
You need to make sure your resume stands out amongst the other candidates. It is the first impression that employers have of your work experience and skills. Use the samples above to put together a resume that best suits your needs and helps you get the job you want.