A licensed practical nurse takes care of the medical needs of patients. Their duties include providing care to patients, assisting doctors, assisting registered nurses, communicating with patients' families, home-based care, giving instructions to patients, and monitoring patient's health. In order to become a LPN, one needs to enter a LPN training program after high school. Licensed practical nurses must demonstrate the ability to monitor patients, communicate well, make patients feel calm and comfortable, listen to patients, report to doctors, maintain records and provide basic care.
A good resume is well-written and concise. It should be neat and easy to read, listing previous experience in a logical order.
Our resume samples will provide you with multiple examples of what you can include when writing your resume.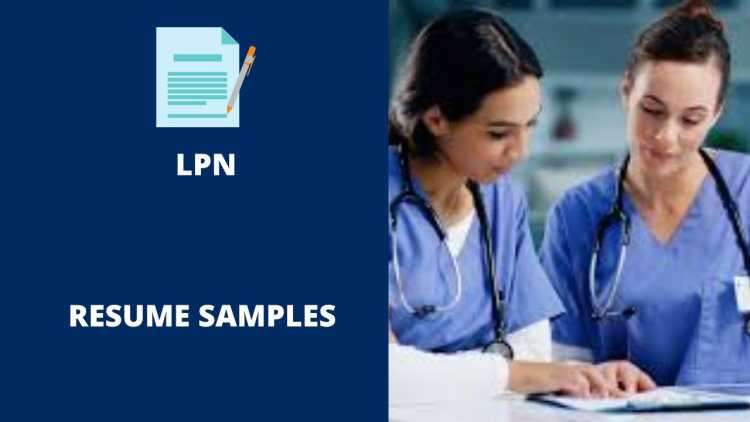 The Best LPN Resume Samples
These are some examples of accomplishments we have handpicked from real LPN resumes for your reference.
LPN
Developed and implemented several ITIL practices improving existing processes and increasing up 25% efficiency of them.
Reviewed, updated & developed company policies to data protection and we got in compliance with legal requirements.
Implemented cloud computing technology reducing the costs of data servers on site.
Dedicated to my profession, and provided comfort and care to patients and families during their time of need.
Recognized by the program manager for excellence in patient care; cited in the hospital newsletter.
Licensed Practical Nurse
Screen military and civilian dependents patients, obtain pertinent information, update and obtain medical information, take behavioral health intakes survey, documentation in an electronic health records.
Take vital signs, height and weight, medical history, perform inhalation treatments, dressing changes, EKG's, injections.
Assisted Md with exams, Gyn procedures, Pap smears, yearly physicals, and minor surgeries, put in medication and lab orders with Md approval, assist with updating patient care plans with RN supervisor.
Promoted as "practical nurse of the year" with a cash award.
Received a perfect quality assurance score on nine consecutive annual performance evaluations.
Licensed Practical Nurse
Directed care and troubleshoot foreseeable problem areas through reasonable communication to relevant staff members (CNA's, LVN'S and RN's).
Managed responsibilities by prioritizing tasks and communicating with staff.
Communicate with staff to maintain correct emphasis and effective teamwork.
Awarded "Employee of the Quarter" for a job well done; received a $500 bonus check from corporate headquarters.
Performed medical treatments for patients and supervised medical staff, as well as identifying, treating, and preventing medical complications.
Licensed Practical Nurse
Provided professional care to patients at the skilled nursing care in routine with the highest standards of excellence.
Developed care plans, and supervised the care provided by nursing aides.
Responsible for the care of the sick, injured, and disabled under the direction of physicians.
Taken vital signs such as temperature, blood pressure, pulse and respiration.
Reviewed physical needs, monitored patients' physical condition, administered approved medications and arranged medical appointments according to assigned medical care standards.
Licensed Practical Nurse
Responsible for the provision of personal care assistance, Nursing procedure, medication administration, taking doctors order, supervision of health care aids and non regulated health care staff and implementing the resident care plan accordingly for the group of resident assigned.
Provides support, advocacy and choice to resident and their families.
Collaborates with RN to ensure that the resident care has been assigned to competent staff.
Demonstrates knowledge in applying safe, ethical, clinical evidence based gerontology nursing practice, safe medication administration and effective, timely documentation in accordance with legislative and legal requirement.
Handled over 1,000 patients' daily medications, processing 200-300 new prescriptions a day.
Licensed Practical Nurse
Evaluate patient needs through ongoing assessment and revise care plans based on changes in patient's condition
Administer prescribed medications or start intravenous fluids per physician orders in a timely manner.
Performed administrative duties that facilitate admission, transfer, or discharge of patients.
A developed personal relationship with each elderly hospital patient; met their special needs with an emphasis on keeping them healthy.
Trained to the full completion, from CNA to LPN.
Licensed Practical Nurse
Observe patients, charting and reporting changes in patients' conditions, such as adverse reactions to medication or treatment, and taking any necessary action.
Provided basic patient care or treatments, such as taking temperatures or blood pressures, dressing wounds, treating bedsores, giving enemas or douches, rubbing with alcohol, massaging, or performing catheterizations.
Evaluate nursing intervention outcomes, conferring with other healthcare team members as necessary.
Expedited the treatment of patients while maintaining each patient's privacy and confidentiality; was an active participant in hospital-wide medication compliance and infection control improvement programs.
Performed emergency and critical care nursing, including a psychiatric hospital bed pan.
Licensed Practical Nurse
Gastroenterology department call center nurse for direct access colonoscopy and endoscopy.
Patient education regarding colonoscopy and other GI issues.
Review patient charts and scheduling of appointments.
Collaborate with the patient primary care physician and GI specialist regarding patient health and needs.
Diagnosed and treated a patient for a fulminating aneurysm in the abdominal arterial walls.
Licensed Practical Nurse
Prepared, administered, and appropriately documented actions taken specific to commonly prescribed oral, topical, subcutaneous medications.
Appropriately carried out assigned residents care based on the patients' conditions.
Collection of samples for laboratory such as urine, stool from Residents.
Performed physical assessment and read vital signs such as temperature, blood pressure, pulse and respiration.
Assisted in the operation of one of our lead physicians, performing pre-operative medical services before surgery.
Licensed Practical Nurse
Distributes medications and treatments under physician orders according to accepted standards of care and facility policies and procedures.
Reporting and documenting on resident status, care provided, provider orders, and response to care with use of electronic medical records.
Accepting and documenting verbal orders from providers.
Communicating verbally and in writing on resident care and condition to appropriate parties.
Prescribed various medications under the direction of one of our doctors.
Licensed Practical Nurse
I manage schedule and assist the onsite physician.
Taking vital signs and interviewing patients.
Ensuring that all required reports are available for physician viewing prior to appointment.
Assisted physician with office procedures, offsite scheduling, phlebotomy.
I am responsible for ordering and managing all medications for all patients at the facility using an online interactive website.
Licensed Practical Nurse
Worked as part of a patient care team that examined and treated ward patients and provided clinical data to implement best care practices.
Administered medications and treatments such as catheterizations, suppositories, irrigations, and enemas as directed.
Collected laboratory specimens and provided discharge planning reinforcement.
Assessed patient's condition, measured and recorded clinical data, and reported critical changes to the Charge Nurse and physician care team.
Set up equipment such as oxygen tents, feeding pumps, and telemetry monitors.
Wrap Up
You need to make sure your resume stands out amongst the other candidates. It is the first impression that employers have of your work experience and skills. Use the samples above to put together a resume that best suits your needs and helps you get the job you want.