Digital Imaging Specialists acquire, upload, and digitize photographs, videos, and graphic designs. Their duties include scanning and digitizing images, providing technical support, editing or rendering photos, operating imaging equipment, inspecting images, and storing them. To be a Digital Imaging Specialist having a bachelor's degree in photography or related field is preferred; 1-3 years of experience in IT or digital imaging and proficiency in Adobe Software is required. Digital Imaging Specialists must have strong computer skills, be organized, work independently, know Adobe Software, communication skills, problem-solving skills, troubleshooting, detail-oriented, customer service skills.
A good resume is well-written and concise. It should be neat and easy to read, listing previous experience in a logical order.
Our resume samples will provide you with multiple examples of what you can include when writing your resume.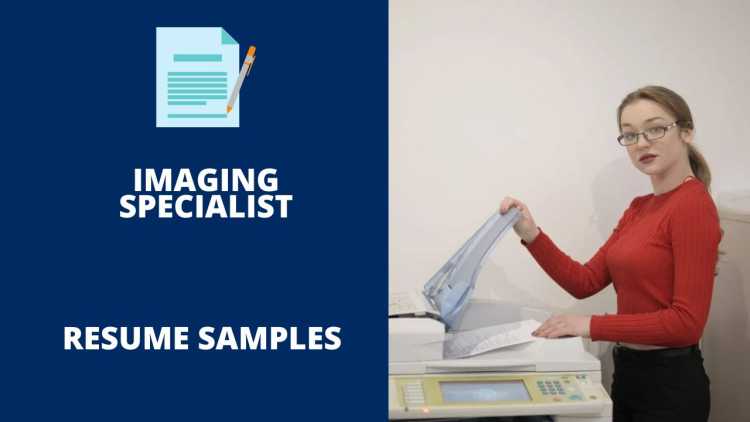 The Best Imaging Specialist Resume Samples
These are some examples of accomplishments we have handpicked from real Images Of resumes for your reference.
Imaging Specialist
Prepared documents for scanning, indexing and verifying records accurately.
Enhanced process and workflow for quality control within department and with other teams to reduce mistakes.
Maintain high level of productivity while helping team members through training and coordination of efforts.
Composed ten original works (poetry, fiction, drama) in two years as a published writer.
Evaluated clients' needs and recommended appropriate imaging solutions by analyzing their business needs and technological capabilities.
Imaging Specialist
Review and evaluate developed x-rays, video tape, or computer-generated information to determine if images are satisfactory for diagnostic purposes.
Explain procedures and observe patients to ensure safety and comfort during scan.
Record, process, and maintain patient data or treatment records and prepare reports.
Collaborated with team members to implement technology solutions for clients.
Designed documents representing clients' vision and image; recognized by peers for consistent creativity, originality, and attention to detail.
Imaging Specialist
Review new biomedical equipment by conducting tests to ensuring adherence to standards.
Installing new biomedical equipment by establishing, adjusting, calibrating, and testing performance.
Maintains biomedical equipment by setting preventive maintenance schedules and conducting tests, to include following manufacturer's instructions; troubleshooting and repairing malfunctions; calling for special service; evaluating service contracts; maintaining equipment inventories.
Proposed evaluation of biomedical equipment by conducting tests and analyses.
Successfully completed an extensive training program in the operation of digital and photographic equipment, including image processing software, as a Certified Professional Photo Imaging Specialist.
Imaging Specialist
Performs periodic auditing of all Imaging documents of all member files and images incorrectly open and saved in the Imaging System.
Develops/Utilize extensive knowledge of imaging, encoding and Troubleshoots equipment malfunctions, works with IT Staff in resolving issues.
Working with third party vendors in coordinating off-site storage, special projects record retention and destruction.
Organizes, prepares, maintains inventory and tracks documents for retention or destruction according to Federal regulations.
Efficiently managed, organized, and implemented projects by utilizing established guidelines to analyze project requirements and present solutions.
Imaging Specialist
Imaging new Dell and thin client PCs for use in the University Health System's Robert B Green campus.
Configured and updated Microsoft, Citrix and proprietary software for the immediate use by hospital staff.
Configured network PCs and thin client to use network printers and other devices such as pen pads and palm readers for staff and registers patients.
Developed professional relationships and cultivated industry contacts to work in a diverse team environment.
Received awards for customer satisfaction and outstanding quality.
Imaging Specialist
Provided support for the Retina Surgeon in all office procedures, including sterile environments with both outpatient surgeries and intravitreal injections.
Coordinated the clinic's involvement in several Phase III Pharmaceutical Studies including data collection, image collection, analysis, and record keeping.
Provided excellent service and interaction with many patients, physicians, and medical professionals.
Responsible for all diagnostic image collection and maintenance of technical instruments.
Fostered outstanding service attitude by consistently going the extra step for our customers.
Imaging Specialist
Performs quality control process, reviewing scanned documents page by page, amending any errors noted, ensuring the accuracy of all records.
Deletes any errors during QC process, rescans documents if necessary, and determines that records are batched within the appropriate section.
Reviews further for accuracy to ensure records are scanned as clearly as the original record allows, and that all documents are properly stored with the correct identifiers (ECP and DCP) through the validation process.
Achieved award-winning status in digital imaging; produced over 300 press-ready images, including flyers, brochures, and ad campaigns.
Researched, designed, and maintained over 120 web pages for small businesses to meet customers' online needs.
Imaging Specialist
Responsible for radiographic examination utilizing diagnostic radiographic equipment.
Contributes to the efficient operation of the department ensuring the quality and continuity of patient care.
Supervises daily work procedures and performances of diagnostic technologists.
Schedules technologists and patients/exams/procedures and assigns daily work; reviews work and clinical processes, procedures and systems to ensure quality, patient care and clinical standards/goals are achieved.
Established me as an expert in all Adobe Illustrator software by completing three advanced certification courses.
Imaging Specialist
Imaging (scan and index) documents received from the branches such as signature cards, POA and other identified documentation in accordance with approved SLA.
Performed Quality Control process (Call Back Verification) that includes but not limited to image quality, accuracy of image and accuracy of indexing of documents.
Uploading imaged documents received from lending units, branches and other departments to the appropriate folders in imaging system.
Received positive attention from Management and co-workers.
Handled both digital and traditional photographic services for clients.
Imaging Specialist
Search electronic sources, such as databases or repositories, or manual sources for information.
Implement scanning or other automated data entry procedures, using imaging devices and document imaging software.
Implement electronic document processing, retrieval, and distribution systems in collaboration with other information technology specialists.
Succeeded as a sole copy machine operator, emphasizing efficiency, accuracy, and speed.
Became the first student to receive a Certified Imaging Specialist (CIS) designation from the National Institute of Certified Imaging Specialists (NICIS).
Imaging Specialist
Maintained records of materials removed from files, date-stamp materials and type labels.
Performed document retrieval and purging consistent with detailed indexing policies and procedures.
Adhered to safety and security procedures to ensure document security and confidentiality.
Used computerized graphics software to design and produce two pieces of work for local arts nonprofit for their annual fundraiser.
Scored highest on all reasoning tests and scored highest on all written tests in order to become a certified NICIS imaging specialist by NIST.
Imaging Specialist
Personally responsible for all covers, color/retouching and creation of the issues weekly (3-9) versions.
Hands on experience with internal color/black and white images, promotional arts pages, cartoons, illustrator files, plus flatbed scanning.
Also versed in page manipulation/creation and color for several "in-house" Conde Nast publications (Lucky, Architectural Digest, Portfolio, Allure, and Men's Vogue) File evaluation from input to final printing pdf's for transmission.
Conducted community outreach programs to build trust between community and police.
Successfully supervised case investigations. Implemented safety programs, including driver's education, bicycle safety, and gun safety and reduction. T
Wrap Up
You need to make sure your resume stands out amongst the other candidates. It is the first impression that employers have of your work experience and skills. Use the samples above to put together a resume that best suits your needs and helps you get the job you want.