The Director of Marketing is responsible for the supervision and daily operations of the marketing department. Tasks include creating the vision, developing the strategy, delegating tasks, managing the marketing budget, reviewing projects and offering feedback. A bachelor's degree in journalism, communications or a related field is typically required for this position. Successful marketing directors are collaborative, strategic, organized, creative, fiscally responsible, critical thinkers and strong leaders.
A good resume is well-written and concise. It should be neat and easy to read, listing previous experience in a logical order.
Our resume samples will provide you with multiple examples of what you can include when writing your resume.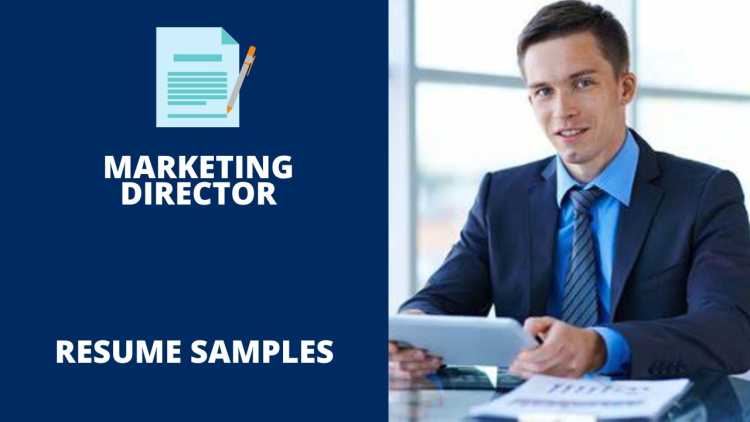 The Best Marketing Director Resume Samples
These are some examples of accomplishments we have handpicked from real Marketing Director resumes for your reference.
Marketing Director
Grew inbound leads 300%+ year over year by developing a demand gen engine complete with lead nurturing, scoring, routing, and SFDC integration.
Developed and executed a go-to-market strategy which included branding, content marketing, public relations, SEO/PPC, and marketing automation.
Designed and developed a new website, videos, whitepapers, case studies, and brochures.
Led tradeshow strategy including event selection, negotiation, messaging, and logistics.
Influenced pricing, positioning, and product development via market research and presentations to leadership.
Marketing Director
Partnered with Events Director to successfully produce all marketing materials including email campaigns, postcards, posters, agendas for all events, roadshows, conferences.
Produced presentations for client events and coordinated AV tech and presentation logistics day of event.
Worked with sponsors on maximizing impact for client events with custom branded materials.
Created marketing follow-up email campaigns after events to continue to engage with clients.
Led and mentored marketing team; created structured processes and improved communication.
Marketing Director
Cold call on local businesses (medium to larger companies) to provide a wellness day to employees and build the patient base.
Prospect for potential patients in Whole Foods, Top Golf, Gyms and other high traffic locations, influence people in pain to attend a Consultation at our Wellness Center.
Coordinate Social Media and Digital Platforms with the intent to reach patients in a specific geographical and niche market.
Present power point presentations designed to inform, educate and convince patients who experience pain discomfort, to enroll in our wellness services.
Established and maintained positive relationships with major local publications such as the Monterey County Herald, The Carmel Pine Cone, and the Carmel Magazine.
Director Of Marketing
Led marketing, communications and media relations for a $5.2 Billion AUM Asset Manager; Direct report to President.
Responsible for both retail and institutional marketing channels for the firm's mutual funds, UITs, ETFs and SMAs.
Created and implemented firm marketing strategies, process flow and best practices, while scaling for 50% 5-year CAGR.
Develop and deliver integrated marketing plans that support sales efforts and generate repeatable results.
Directed a team of nine advertising sales representatives that exceeded all targets for new customers, gross profit share, and net profits; established new customer accounts.
Marketing Director
Promoted from Project Manager to Director and built a marketing team from 2 to 12 team members over 6+ years.
Worked directly with the Managing Director to develop, execute, and oversee marketing plans, branding and creative strategies and to ensure consistency across all platforms.
Led and manage the team's largest re-branding initiative including: website re-design, creation of digital and print marketing collateral, email marketing and social media launch across multiple platforms.
Supervised forty employees at two separate companies in addition to volunteers who worked one-on-one with the public.
Created an integrated marketing strategy that was planned out and executed through developing direct mail campaigns targeted to key audiences.
Director Of Marketing
Developed and executed digital ad and social media strategies including ad words campaigns and analytics.
Led website redesign from inception to launch, managing developers during the build out process and functioned as the content manager going forward.
Oversaw all facets of membership development including use of data and creative strategy to drive revenue, retention, member engagement and new program development.
Developed and maintained community-designed solutions to promote the Monterey Peninsula as a top tourist destination in The Carmel Pine Cone publication.
Administered executive programs for new and emerging business ventures.
Director Of Marketing
Oversee marketing strategy and implementation for a $4.5 billion portfolio with more than a 1,000 sales associates in 26 offices for the largest Sotheby's International Realty affiliate globally.
Strategized with the Chief Executive Officer and Chief Operating Officer on company and agent marketing iniatives managing a $1million marketing budget.
Prepared and present marketing plans to clients to win new business and to agents as potential recruits.
Partner with sales associates and brokerage managers to deliver the best programs to generate revenue.
Launched and directed the creative teams responsible for developing all advertising, marketing, and public relations materials for the company's line of products.
Marketing Director
Director of brand partnerships, marketing and content- I developed partnership opportunities for potential sponsors.
Oversaw production and implementation of campaigns, and recapped their impact.
Created branded content online and in print for partners and sponsors.
Strategized, managed and produced the creation of all blog content, email marketing campaigns, and social media content across several channels.
Developed strategies and implemented creative work with advertising agencies to develop creative concepts, concepts that became the standard for the company's brand name.
Director Of Marketing
Develop marketing budgets and pricing structures for Biz Bash Live experiences, Event Style Awards program, and internal events, increasing revenue and attendance goals year over year.
Devise integrated marketing campaigns to successfully meet, and exceed, event goals.
Establish the Biz Bash brand as a leader in the event and meeting landscape, showcasing ideas, resources, and tools via personalized digital and print campaigns targeted to event professionals.
Created motivational campaigns including logos, taglines, music cues, videography, graphics art direction and production, in-store displays and graphic design.
Committed to developing intimate relationships with clients throughout every aspect of their business; maintaining professional standards while accommodating urgent requests within deadlines.
Director Of Marketing
Developed, implemented and measured effectiveness of a comprehensive marketing strategy to increase brand awareness, membership growth, and member benefits.
Implemented marketing plan resulting in 1.7% membership growth; after five years with no growth.
Determined and achieved financial objectives by preparing an annual budget; scheduling expenditures; analyzing variances; initiating corrective actions.
Developed and implemented digital marketing strategy, including responsive website redesign, SEO and SEM strategies, email marketing, social media and inbound marketing strategies resulting in decreased CPM, increased email open rates and increased engagement; modified campaigns based on Google analytics and SFMC reports.
Increased sales and brand recognition for the Mad Pest Control Company by 258% and 851%, respectively, in one financial quarter. Mad Pest Control Company ranked #12 in the nation with gross revenue of $8.6 million in 1Q-2011.
Director Of Marketing
Created and manage marketing campaigns to launch Pop money and support of Bill Pay marketing efforts.
Directed to Consumer: Developed campaigns including social media, videos and emails to increase awareness, trial and usage of Pop money.
Social Media: Launched Pop money's social media presence (Facebook, Twitter, and YouTube).
Financial Institutions: Collaborate closely with banks such as Citibank, Fifth Third and Comerica in areas such as employee training, promotions, banner ads and email campaigns.
Placed over $20,000 of advertising, on average, every month in local newspapers, radio stations, and websites to increase brand awareness.
Director Of Marketing
Managed and oversaw all aspects of the companies' Marketing department that included budgeting, advertising, graphic and web design, sales support, online marketing and SEO, website management, social media websites, video production and product photography.
Created and executed new and innovative marketing campaigns that generated millions in revenue and increased overall market share by almost 30% for the company.
Designed and managed company website with e-commerce store that grew annual sales from zero to $100K in three years.
Updated full company branding to help improve company perception in the marketplace.
Generated creative strategies for sales growth; organized events to raise company profile including the "Mr. & Mrs. Mad Pest" contest that generated over 100 entries and brought national media attention to the company's services.
Wrap Up
You need to make sure your resume stands out amongst the other candidates. It is the first impression that employers have of your work experience and skills. Use the samples above to put together a resume that best suits your needs and helps you get the job you want.