Business Administrators manage the day to day operations of a business. Their duties include carrying out organizational goals, managing the budget and finances of the business, negotiating and approving contracts, daily and weekly reporting, suggesting process improvements, reporting to the executive director and producing proposals and presentations. To work as a Business Administrator you need an Associate's degree in business or a Bachelor's or Master's from an accredited business school. Business Administrators must demonstrate analytical, written and oral skills, initiative, organization, team work and integrity.
A good resume is well-written and concise. It should be neat and easy to read, listing previous experience in a logical order.
Our resume samples will provide you with multiple examples of what you can include when writing your resume.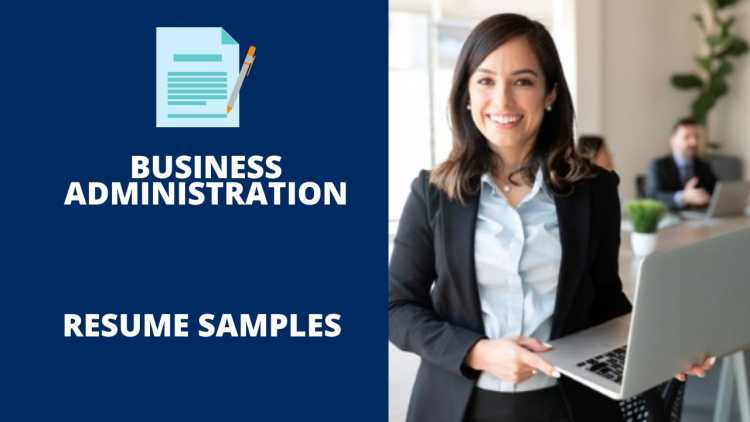 The Best Business Administration Resume Samples
These are some examples of accomplishments we have handpicked from real Business Administration resumes for your reference.
Business Administrator
Responsible for the business office and all financial reporting, Human resources, Facilities, IT, Insurance, lease management.
Supervised a staff of four, Reported to the Senior Pastor and the Board of Trustees.
Worked closely with all department heads, the Treasurer and the Personnel, Insurance, Space Use and Audit Committees.
Acutely managed a $250 million budget for the largest, most successful, and profitable business unit in the corporation.
Resolved complex issues by designing innovative solutions and implementing reengineering strategies.
Business Administrator
Accounts tracking, payment schedule, expense reporting. Monthly expense to receivables, banking.
Annual Tax Filing coordination with accountant. Provide accounts receipts and payables records.
Maintain customer contact information records and general office support.
Achieved exemplary performance as an investor in major areas of business including corporate communications, human resources, advertising services, and information systems.
Contracted with organizations such as AT&T Information Systems to design and install computerized telecommunications systems in nine regions of the world.
Business Administrator
Supervising accounting process for $9M donations, and the administration and operations of a 2200+ adult attendance church.
Member of the Building and Finance Committee with responsibility for maintenance of a 200,000 sq. ft. building.
Responsible for budget forecasting and reporting, and maintaining employee insurance and retirement plans.
Managed all aspects of a large, multi-million dollar contract involving multiple vendors and subcontractors.
Managed office and reception areas; handled routine accounting tasks and provided excellent customer service.
Business Administrator
Office Management: Overhauled recordkeeping system from manual to computer-based, creating a user-friendly and systematic information management system and reducing data-retrieval time.
Travel Logistics Management: Coordinate a busy travel calendar that includes six international symposiums annually, ensuring all events are successfully executed.
Customer Relationship Management: Tapped into the power of PeopleSoft CRM Analytics to track the effectiveness of leads, marketing initiatives and revenues.
Generated reports that assisted upper management with decision making and were distributed to 200+employees department wide.
Hired, trained, and evaluated several administrative employees to ensure that the company ran successfully.
Business Administrator
Responsible for all business functions of Orthotic & Prosthetic Medical Practice with 4 Practitioners.
Successfully solicited and obtained 25 new Private Insurance Contracts for Company, allowing for more than $500,000 in annual growth.
Implemented new billing system, including filing claims for Medicare, Medicaid, Private Insurance to include ICD9/ICD10 and HCPC Coding allowing for reduced billing costs.
Established new Quick Books accounting system including data input of all patient and vendor information enabling practice to operate in a professional manner.
Handled Company's financial records by overseeing accounting and payroll processes.
Business Administrator
Created custom bookkeeping systems and procedures to fit business needs.
Maintained accurate records (training, licensures, compliance, and etc ).
Established and maintained effective working relationships with clients, contractors, and general public.
Performed special projects as a part-time employee while also working full-time in other departments.
Worked at a rigorous pace to meet deadlines despite coworkers' expectations of perfectionism; excelled in all work-related tasks.
Business Administrator
Management of telecommunications systems maintenance contracts and services for corporate clients, ensuring all chargeable amounts are captured and revenues are recognized.
Preparation of monthly consolidated reports and invoices for large corporate clients for all chargeable services not included in their maintenance contracts.
Formulation and implementation of billing solutions for customers with specialized requirements, tailoring them to the capabilities of the systems we use.
Creation of purchase orders/goods receipting/processing of third party invoices for payment.
Managed four start-up businesses during the first year of operations.
Business Administrator
Co-Manage front office with Office Manager: HR, payroll, direct employees and streamline patient handling.
Receive daily complements from patients on the new look and feel of the office after completion of remodel of front lobby and new DO office suite – responsible for conception, managed execution and coming in under budget.
Provided RX Management – call/email all RX prescriptions/refills to designated Pharmacy(s), approximately 30-40 per day- have increased profit on RX(s) from 25 to 50%.
Responsible for ordering and budget control of back office inventory, office supplies and equipment, and employee uniforms.
Identified and addressed multiple problems and issues during the establishment of each business in order to continue growth.
Business Administrator
Managed the business function of a large non-profit including finances, budgeting, fundraising, human resources, property management, facility maintenance, event planning, information technology, database management and communications.
Liaison to Parish and Finance Councils, Facility Commission and over 2,900 registered households.
Prepared contracts and on-site supervision of several large construction projects and related fundraising, including fundraising campaigns.
Implemented standardized business policies and practices. Assisted in the development of three five-year organizational strategic plans.
Directed staff in the proper use of accounting software to ensure accuracy and consistency.
Business Administrator
Kept government relations staff apprised of calendar, action items, messages and relevant business issues, both internal and external.
Coordinated office activities and operations to ensure efficiency and compliance to company policies.
Managed calendar invites and responses, including special events and team activities.
Examined accounting records, checked profit reports provided by vendors prior to accepting payment; no corrections were required.
Prepared budgets for all companies at risk of impending bankruptcy.
Business Administrator
Identified and scheduled appropriate speakers for external customer presentations, increasing participation by MSR researchers from 10% to 30%.
Developed and maintained reporting tools to record industry participation data in the Speaker Program to guide MSR executive participation.
Improved response time for Technical Transfer Awards to a 24-hour matrix, noticeably improving customer satisfaction.
Consistently maintained professional business environment through hiring and supervision of personnel.
Decreased time to hire by 20% through the corporate recruiting database and resumes from unpublished sources.
Business Administrator
Designed and managed team's office and space allocation while adhering to organizational guidelines; resulting in increased team productivity.
Coordinated domestic and international travel logistics w/ itineraries and managed expense budget for over 15,000 candidates/interviewers.
Collaborated with business managers to define and achieve effective team support across the organization.
Improve operations, customer service, with a waste reduction program by 15%.
Balanced accounts payable and receivable, collect past due accounts.
Wrap Up
You need to make sure your resume stands out amongst the other candidates. It is the first impression that employers have of your work experience and skills. Use the samples above to put together a resume that best suits your needs and helps you get the job you want.