A Barista fixes specialty coffees for coffee shops. Duties include greeting guests as they enter the store, accurate order taking, learning hundreds of different ways to mix coffee, making sure the bar area is well stocked, cleaning utensils, and sweeping up the store. Educational requirements are a high school diploma or equivalent. Skills needed are: ability to learn quickly, excellent listening skills, good with people, ability to calm down angry customers, work well under pressure, kindness and patience.
A good resume is well-written and concise. It should be neat and easy to read, listing previous experience in a logical order.
Our resume samples will provide you with multiple examples of what you can include when writing your resume.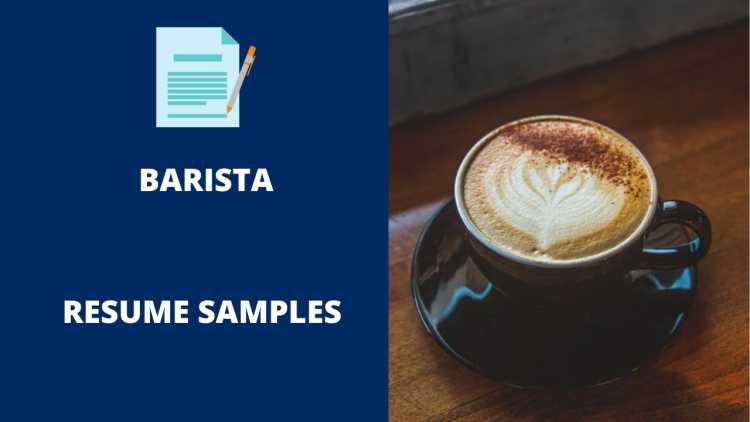 The Best Barista Resume Samples
These are some examples of accomplishments we have handpicked from real Barista resumes for your reference.
Barista
Maintain regular and consistent attendance and punctuality, with or without reasonable accommodation.
Working flexible hours that may include early mornings, evenings, weekends, nights and/or holidays.
Meet store operating policies and standards, including providing quality beverages and food products, cash handling and store safety and security, with or without reasonable accommodation.
Engage with and understand our customers, including discovering and responding to customer needs through clear and pleasant communication skills.
Increased profit margin by being able to work without error with retail software.
Barista
Greet customers as they arrive at the Starbucks outlet and inquire into their orders.
Provided customers with information on popular coffee blends.
Assisted patrons in finding seats inside the coffee shop and take their orders.
Educate customers about the history of each coffee blend when inquired.
Observed and greeted customers daily, increasing overall customer service satisfaction.
Barista
Served coffee using a number of brewing methods, including: espresso, pour over, drip coffee, and cold brew.
Successfully prepared beverages for drive-thru during peak nearly every shift.
Able to differentiate between drinks and sell to each customers need.
Performed opening and closing duties throughout the store, including but not limited to: cleaning the espresso machines, assuring materials are stocked, maintaining store cleanliness, doing the dishes.
Achieved patent for a new drink mix that brought new life to an existing menu item; was featured on national television as a result of the drink's popularity.
Barista
Welcomed customers by determining their coffee interests and needs.
Prepared and sold coffee drinks by following recipes and preparation techniques for coffee drinks, such as, expresso, latte, and cappuccino.
Maintained inventories by replenishing coffee bean supply; stocked coffee brewing equipment; maintained supplies, pastries, and cookies for coffee bar.
Maintained safe and healthy work environment by following organization standards and sanitation regulations.
Created, trained, and managed a planning committee to expand business (doubled profits) during the first year after opening in a new location.
Barista
Prepared or serve hot or cold beverages, such as coffee, espresso drinks, blended coffees, or teas.
Describe menu items to customers or suggest products that might appeal to them.
Take customer orders and convey them to other employees for preparation.
Initiated and developed a new market trend of serving quality coffee to corporate offices by offering a variety of blended and roasted coffee drinks.
Acted as a head barista and brew master at the popular coffee shop.
Barista
Clean or sanitize work areas, utensils, or equipment.
Clean service or seating areas. Check temperatures of freezers, refrigerators, or heating equipment to ensure proper functioning.
Describe menu items to customers or suggest products that might appeal to them.
Provided customers with product details, such as coffee blend or preparation descriptions.
Received outstanding quality award; quickly identified cold temperature and disparate cup size, while stirring the drink in under one minute.
Barista
Educates customers by presenting and explaining the coffee drink menu, answering questions.
Sells coffees and coffee grinding and brewing equipment by explaining difference in coffee beans and coffee preparations machines; demonstrating how brewing equipment operates.
Prepares and sells coffee drinks by following prescribed recipes and preparation techniques for coffee drinks.
Generates revenues by attracting new customers, defining new and expanded services and products.
Contributed to the success of this restaurant by perfecting techniques necessary for making ever-increasing number of drinks, up to 300 per shift.
Barista
Served as a barista and cashier at the on campus Starbucks location attached to the library, delivering superior customer service to
hundreds of customers daily.
Regularly performed the 6am opening processes to be ready for 7am openings, Monday through Saturday.
Prepared drinks on precise machinery, stocked service stations, ordered product/received deliveries, and operated the cash register, processing and balancing cash, credit card, and gift card transactions.
Prioritized items in the store inventory so that time allotted for other tasks was not wasted when working: organized items on shelf, performed daily inventory on prep areas, and completed beverage preparation with minimal wasted time.
Barista
Greets and connects with every customer, recommending drinks and pastries with a pleasant smile and superior customer service.
Keeps calm and collective demeanor during high-volume periods and special events by sustaining company standards and quality conduct.
Maintains clean and organized work space, enabling coworkers to locate resources and product.
Brewed coffee, brewed tea, and made espresso beverages for breakfast and lunch rush during peak hours.
Attended an intensive barista school for 3 months in order to fulfill the specialty of Café Espresso Latte.
Barista
I worked at this coffee shop while completing my bachelor's degree in Psychology.
I helped manage and expand a new coffee shop that improved my interpersonal and business management skills.
Requirements were to achieve customer satisfaction, desirable products to sell, cleanliness of the shop, fast paced work, team building with employees, and the continuous selling of products with efficient customer service.
Created and decorated 1% of the total latte and espresso menu.
Delivered orders within expectations despite heavy workload, resulting in overall positive customer feedback.
Barista
Performed a full range of duties: process orders to meet each customer's specifications; maintain the cleanliness and functionality of equipment and the restaurant according to corporate standards; process cash and credit card sales.
Earned sufficient trust to close the restaurant; divide and secure tip money; clean, stock and prepare the restaurant for opening; inventory products to assure date freshness.
Developed strong interactive and customer service skills by providing personal customer service to each customer according to Starbucks' high standards.
Beautified a new environment; including coordinated color schemes, fixtures, and furniture.
Continued education through daily interactions with customers; learned to engage, understand, and reassure customers' needs.
Barista
Proven ability to up-sell and recommend drinks and food items based on customers' taste and through sales promotions.
Process point-of-sale transactions, make drinks, and fulfill walk-in and mobile customer orders completely in a timely manner with strong attention to detail.
Maintaining the cleanliness of the store and equipment, restocking supplies and merchandise while providing great in-store Starbucks experience.
Effectively and efficiently prepared specialty coffees, served lattes, and doughnuts.
Responsible for staff training in the preparation of specialty coffees and the operation of a new cashless service system.
Wrap Up
You need to make sure your resume stands out amongst the other candidates. It is the first impression that employers have of your work experience and skills. Use the samples above to put together a resume that best suits your needs and helps you get the job you want.