Banquet Servers work at catering events as wait staff. They help in banquet presentation, setting up the room, taking food and beverage orders, serving the guests, keeping all glasses filled, maintaining table tidiness, and taking care of post-event clean-up. No formal education is needed to be a server, but a high school diploma is preferred. Banquet Servers must be clean, presentable, team players, customer service-oriented, have great time-management skills, and be able to stand on their feet for long periods of time.
A good resume is well-written and concise. It should be neat and easy to read, listing previous experience in a logical order.
Our resume samples will provide you with multiple examples of what you can include when writing your resume.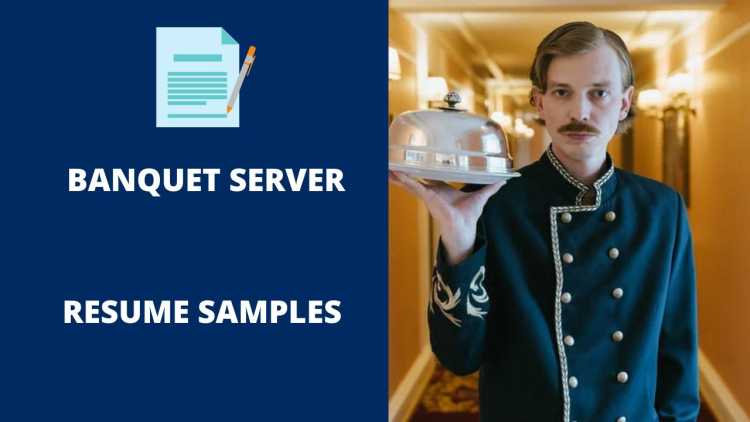 The Best Banquet Server Resume Samples
These are some examples of accomplishments we have handpicked from real Banquet Server resumes for your reference.
Banquet Server
Set up buffets with food presentation standards and practices in mind, ensuring safe food handling performance.
Serve plated dinners to guests and respond to requests for beverages, appetizers and other needs.
Communicate with banquet supervisor as well as other servers and event organizers.
Demonstrated a professional image in front of 500 guests at the bi-annual company conference.
Increased server income by $2,000+ by efficiently increasing the quality of service and beverage sales.
Banquet Server
Serve banquet guests' food and beverage items by following proper food handling and safety guidelines.
Handle the tasks of monitoring and inspecting food and beverage deliveries.
Inspect, replace, and clean table linen, china, glassware, and silverware.
Prepare, set up and clean banquet meeting space for functions.
Monitor guests and respond to needs and requests in a warm and timely manner.
Banquet Server
Set up banquet and ball rooms according to contract. Worked directly with kitchen staff to ensure meals were prepared and served as requested.
Served food, beverages, and cocktails to club members and addressed any special needs or accommodations.
Ensured members received excellent service that exceeded their expectations.
Solved customer complaints effectively to ensure repeat business and customer loyalty.
Remained productive and consistently positive as a banquet server throughout shifts.
Banquet Server
Set banquet rooms and halls as per instructions of the event manager.
Prepared rooms in terms of adjusting lights and setting appropriate temperature.
Ensure that all decorations have been set in accordance to the instructions.
Make sure that tables are set with linen, dishware and flatware.
Fill glasses with water before guests arrive and refill them during the course of the event.
Banquet Server
Set up buffets with food presentation standards and practices in mind, ensuring safe food handling performance.
Serve plated dinners to guests and respond to requests for beverages, appetizers and other needs.
Communicate with banquet supervisor as well as other servers and event organizers.
Clean up venue after event ends and assist with inventory, food storage and other closeout tasks.
Successfully trained two new banquet servers in the speedy preparation and delivery of three entrees, four appetizers, eight desserts, and dessert cake.
Banquet Server
Provided assistance to banquet managers in the serving of guests during banquet functions to ensure positive guest experience.
Set up banquet room as requested by the supervisor to include glassware, serviceware, linen.
Attend roll call meetings before events kick off in order to learn function particulars, including hotel and guest expectations.
Greet and welcome guests and respond to their requests in a courteous and friendly manner.
Served well over 1,100 customers during shifts in the Las Vegas International Hotel.
Banquet Server
Take pride in organization skills and efficient work ethic while completing pre-function side work as designated by the Banquet Captain and/or Banquet Managers.
Efficiently and properly perform all service standards to exceed guest and co-associate expectations.
Be attentive and proactive as you attend to all needs of the guests during functions and function related duties.
Educate yourself and be familiar with and adhere to all liquor liability laws.
Served hospital staff and patients at "banquet" luncheons and dinners.
Banquet Server
Collaborated with chefs and nutritionists to organize and serve plated meals to facilitate healthy weight loss options to our biggest loser clients.
Served, busser, and reset rooms for a variety of organizations.
Followed Banquet Event Orders to fulfill banquet room, conference room, and auditorium set up and tear down requirements.
Wrote/completed over 1,000 individual food orders in various quantities of each item, based on customer's requests; accurately executed customers' orders every time.
Accurately attended to, executed, and completed all tasks (i.e., washing, stirring, serving) after numerous written directions from supervisors and line cooks who had never been present during any of those tasks before.
Banquet Server
Assisted guests in order selection by promoting specific menu items and specials.
Up-sell appetizers, specialty beverages, and desserts to increase guest check averages.
Coordinated with kitchen staff to ensure timely and accurate order preparation.
Regularly followed-up with guest tables and promptly fulfill additional requests.
Proactively provided friendly service with a smile to patrons and coworkers alike; effectively handled a variety of customers' varying requests.
Banquet Server
Responsible for setting up banquet room as instructed by Supervisor to include linen, service ware and glassware.
Attend roll call meetings before events to learn function particulars, including guest and hotel expectations.
Greet guests and respond to requests in a friendly and courteous manner.
Serve the food and/or beverage in the order and to the expectation of the Supervisor to ensure consistency throughout the banquet.
Excellent communication skills; effectively conveyed needs to supervisors while working under pressure to meet schedules established by managers and line cooks alike.
Banquet Server
While working at the sheraton I performed all the duties required in a full service banquet.
Setting tables, tray passing hors d'oeuvres, wine, coffee, and champagne service were all included in my pre meal responsibilities.
I was also responsible for carrying trays, serving 3 course meals, and clearing and cleaning tables.
Went out of my way to ensure polite and efficient service. Excellent exposure to all levels of management.
Extensive use of teamwork skills, both in communication and administration.
Banquet Server
I was responsible with setting up and breaking down banquets both before and after every banquet.
Table duties such as picking up dirty dishes were also part of my responsibilities.
I also made sure that drinks were refilled and food was out in a timely fashion.
Finally, any requests the guests asked from me I completed in a timely fashion.
Served as the primary point-of-service control for more than two thousand customers per year.
Wrap Up
You need to make sure your resume stands out amongst the other candidates. It is the first impression that employers have of your work experience and skills. Use the samples above to put together a resume that best suits your needs and helps you get the job you want.