Video Game Designers created games for companies. Their duties include testing games, developing coding, constructing plans, conducting inspections, supervising the game's development, and staying informed of industry developments. To become a Video Game Designer, you must obtain a Bachelor's degree in computer engineering or a related field. Video Game Designers must demonstrate creativity, programming skills, computer savvy, communication skills, analytical skills, writing skills, and attention to detail.
A good resume is well-written and concise. It should be neat and easy to read, listing previous experience in a logical order.
Our resume samples will provide you with multiple examples of what you can include when writing your resume.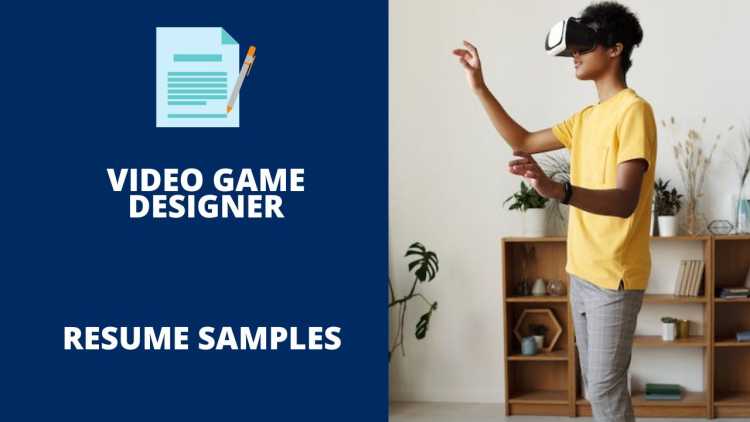 The Best Video Game Designer Resume Samples
These are some examples of accomplishments we have handpicked from real Game Designer resumes for your reference.
Video Game Designer
Produced all assets, pixel art, and game art for UI, HUD, pause, and play and quit screens.
Ensured the quality assurance for game play and visual effects by testing game.
Worked on development team to ensure completion in a timely manner and before due date.
Designed, sketched, and created over 50 unique levels for top-selling games.
Created levels for companies such as Activision and Virgin Interactive.
Video Game Designer
Determined the client's requirements, by analyzing and verifying if the demanded product could be achievable in a timely manner.
Researched agile methodologies and pedagogy behind programming video games as an educational tool.
Designed new and interesting games that targeted college students by encouraging them to learn and practice.
Contributed to the overall design of several popular game franchises including Worms, Alone in the Dark, Iron Soldier II, Chex Quest II (SCI), and Dragons Lair.
Recognized with several awards for outstanding work by reviewing the gameplay elements of popular games.
Video Game Designer
The creation of the design document template which includes all aspects of the design structure of the video game.
The creation of a Wikipedia for animators, designers, developers and audio personnel for reference of terminology involved within the game.
Without any supervision completed flow charts, technical writing and graphic user interactive designs before deadlines.
Produced effective visual design for a full-length "walk-through theater" production using industry-standard render tools, animation, and mapping programs.
Played acoustic guitar and sang professionally: The Local Band (Hawaiian)
Video Game Designer
Created core game features including storylines, role-play mechanics, and character biographies for a new video game or game franchise.
Devise missions, challenges, or puzzles to be encountered in game play.
Develop and maintain design level documentation, including mechanics, guidelines, and mission outlines.
Prepared and revise initial game sketches using two- and three-dimensional graphical design software.
Played piano, organ, and percussion: The Local Band (Hawaiian)
Game Designer
Wrote rules and conduct community play tests to validate concepts refine where appropriate.
Contact and assist art team in visualization of game, including requirements for images, thorough approval process, and eventual presentation to CEO.
Participate in interviews and community events to discuss product.
Designed and created many innovative video games.
Created art print-outs for greeting cards in the styles of Disney, Warner Brothers, Universal Studios.
Game Designer
Designed and implemented player and enemy combat mechanics and AI using toolkits and visual scripting systems in Unity for a single-player Action-RPG.
Developed, presented, and followed through on game designs for numerous gameplay systems including combat, abilities, AI, and character progression.
Worked with engineers to develop and refine tools to aid in level design and development.
Adept at writing, designing, programming, and managing in a full product life cycle.
Co-Founded a game development company (with others) with an emphasis on problem-solving and creative potential.
Game Designer
Working closely with the design team to created and refine aspects of the gameplay experience.
Using licensed and/or proprietary technology to implement AAA quality gameplay systems.
Writing design documents to communicate concepts to multiple disciplines (programmers, artists, level designers, producers, etc).
Communicating with people from a variety of different disciplines knowledgably and effectively.
Developed extensive experience with programming, 3D modeling, and 3D animation.
Game Designer
Tested digital gaming and metagaming content such as Magic: The Gathering Toolbox, Duels of the Planes walkers, and Magic: The Gathering Online.
Consulted on structure, direction, and support programs for high-level organized play including the Pro Tour, as well as store-based community building.
Stress-tested Magic sets to ensure balance and variety at highest levels of competition.
Wrote code designed to enhance the playability of video games.
Converted my own comic book/graphic novel into a video game as well as a motion comic.
Game Designer
Write, review, and provide feedback on Pitch Documents and Game Design Documents.
Participate in brainstorming sessions for in-progress and upcoming projects.
Built a paper prototype and facilitated remote playtesting with worldwide team.
Wrote game pitch documentation / game design documentation and facilitated the live document feedback process.
Produced over 50 graphic designs for national video game companies.
Game Designer
Directed voice actors, edited the resulting audio, created foley sfx and oversaw the placement and playback in Unity.
Used Unity to work with the level designer and place various triggers, NPCs and gameplay events.
Led playtests and used the data to restructure gameplay with other programmers.
Designed, created, and managed the direction of a diverse team whose efforts resulted in a successful six-product series; each product had a different genre and target audience.
Assisted in the sellout of over 350,000 copies of the first two games by creating an effective marketing strategy that increased sales by 107% over the first year.
Game Designer
Worked collaboratively with team via telecommunication to design, iterate and implement new content for both Force of Elements and an unreleased project.
Created design docs for new systems and monetization options for new unreleased projects, as well as three other game pitches.
Worked in Json to iterate design ideas and balance changes to both PVE and PVP gameplay in unreleased project as well as add in needed changes to the game.
Communicated and collaborated with both publishers and partners of the IP used in the unreleased project to see brand integrity maintained, while expanding the lore of an established comic universe.
The designed game engine was used to manufacture an interactive, motion-based virtual reality amusement park.
Game Designer
Created new game concept; wrote and managed the GDD.
Researched and wrote internal Game Design features guidelines document for Social and Mobile games.
Current on trends of best design practices for iOS, and Android.
Contributed to the production of twelve bestselling video games; directed creative resources developed role-playing and fighting scenes, and conceptualized characters.
Enticed players with new and exciting gameplay concepts, designing games to sell over 100,000 copies worldwide.
Wrap Up
You need to make sure your resume stands out amongst the other candidates. It is the first impression that employers have of your work experience and skills. Use the samples above to put together a resume that best suits your needs and helps you get the job you want.