Technical Project Managers plan and manage projects for a company or organization. They are responsible for coordinating projects, setting deadlines, setting expectations, preparing reports, assigning roles, and making sure that all projects are completed on time and within a budget. Technical Project Managers are expected to have a Bachelor's degree in information or computer science, and several years of experience. They must be efficient, critical thinkers, team players, and exceptional at time management, as well as understand risk assessment, financial modeling, and budgeting.
A good resume is well-written and concise. It should be neat and easy to read, listing previous experience in a logical order.
Our resume samples will provide you with multiple examples of what you can include when writing your resume.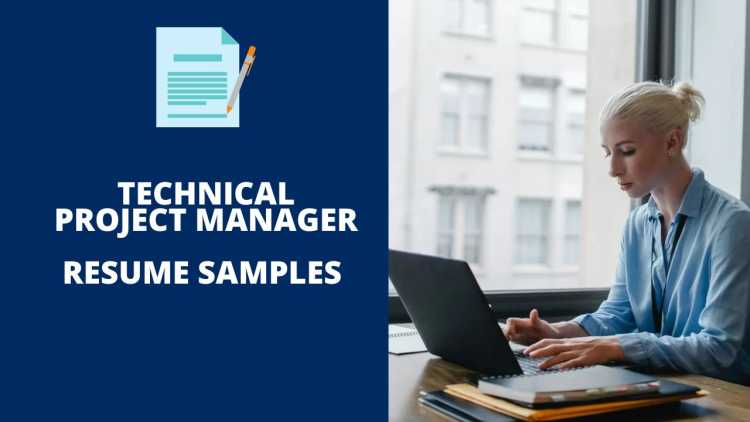 The Best Technical Project Manager Resume Samples
These are some examples of accomplishments we have handpicked from real Technical Project Manager resumes for your reference.
Project Manager
Created and Maintained Project Status reports, various trackers for Senior Management and Key Stakeholders.
Partnered with various Business Unit Controllers and Source System owners during the Planning and Design phases of the project and will continue through the remaining project phases.
Chaired and Participated in project decision-making and review meetings.
Developed and implemented new projects that met and surpassed client expectations.
Designed project requirements, functional specifications, and tested applications prior to release.
Project Manager
Managed Skype for Business deployment and support, user adoption, architecture design, and network assessment projects, total revenue of $15M across North America.
Led over 20 projects at a time with a consistent monthly revenue increase of 15% over Q1.
Designed Project Management Operations and Project Lifecycle processes, which increased Project Management utilization by 35%, increasing company revenue by 3%.
Created a Resource Forecasting Model, which increased Technical Consultant utilization by 19%, increasing company revenue by 5%.
Achieved a 100% annual on-time project delivery for the production line; recognized for exceptional job performance.
Project Manager
Led the technical team in re-designing applications to improve performance and scalability.
Utilization of resources based on the synergy between various initiatives within the program.
Performed Estimating and forecasting for multiple projects.
Brought in efficiency with the introduction of automated selenium scripts for testing.
Positioned company in the forefront of computer software technology with initiatives in user experience, online capabilities, and ease of use.
Project Manager
Handling a project on Connected Cars at present as a Functional Analyst and Project Manager.
Handling Multiple Tier1 customers for implementation/maintenance of Automotive and Finance applications.
Handling Tier1 customers for setting up an ODC for maintenance/support of their Payment Gateway.
Supervised development of new web portal technologies to establish new standards for internet accessibility; recognized by IT Vanguard Award from International Society of Information Technology Management.
Developed and ran an effective project management system for the Senior Management Department of XYZ corporation.
Project Manager
Review lab procedures for technical content to ensure requirements are properly addressed and advise as necessary.
Develop, write, and maintain laboratory guidance procedures for W-76 and W-88 Weapon Systems.
Assess weapon defects and their effect on stockpile reliability.
Interface with customers/contractors to resolve technical & programmatic issues.
Analyze technical requirements/drawings and provide interpretation for management and labs.
Project Manager
A technical delivery project manager who managed local and international resources in building responsive websites/portals for inflight airline entertainment on mobile devices.
Oversee the delivery of the Airline Portals for Black Swan and Panasonic Avionics.
Managed all aspects of the airline's passenger GUI from requirements gathering to final customer acceptance testing and deployment.
Improved process efficiency by over 50% in the bank's claims processing function.
Managed the major implementation phase of a company-wide quality assurance system; delivered massive savings in materials, equipment, and man-hours.
Project Manager
Deployed Discount Management portal, provided clients with Dynamic Discounting solutions, and increased client ROI by over 20%.
Actively led internal and clients' technical, financial, and business teams and engaged in dynamic discussions among all teams throughout the project.
Communicated effectively internally and externally and focused teams on business objects to ensure timely delivery of desired results.
Supervised QA team and ensured sufficient test case coverage in functional features, administrative access permissions, as well as data integration testing.
Provided best practices for structuring projects by successfully leading numerous initiatives utilizing new technologies across several business units.
Project Manager
Relied on the technical background to hire qualified engineers and ensure success from project to project.
With experience and an eye for design assembled a team of designers to meet the daily demands of a thriving digital agency.
Facilitated communication between clients, developers, and designers to see over 20 websites to completion.
Leveraged personal experience with designers and developers to identify individual strengths and place each in their most effective roles on a project-to-project basis.
Optimized performance measurements to ensure proper accountability; responsible for reaching targets of $12 million in cost reduction and $500,000 in productivity improvement.
Project Manager
Communication of solution benefits and project status to senior management & project stakeholders.
Working with subject matter experts to define and document the integration requirements.
Coordination of project activities between multiple technical teams and business units.
Coordinated and enabled end-user testing and production roll-out of the completed solution.
Achieved project goals that met clients' objectives.
Project Manager
Project Manager that supports command and control elements of base agency.
Performs communication emergency management for local and base-wide populations and informs leadership of emergency situations.
Facilitates emergency responses by communication equipment and relays pertinent information to key leadership for management control.
Monitors aircraft movement and supports aircraft maintenance situational awareness for base leadership.
Maintained a timely and accurate project reporting system; managing multiple projects using an enterprise resource planning package.
Project Manager
Assisted Program Director on a technology transformation project that is the largest implementation in Farmers history and involves converting multiple legacy software applications into a more modern, web-based application.
Led the billing workstream to ensure that IT and business requirements are aligned, as well as improving the usability in the new application with a more intuitive user interface and fewer clicks or navigations.
Maintain goal of 85% conformance with the software application as it was developed off the shelf, which requires innovation to created an improved user experience while minimizing customization.
Visualized and presented financial results to management through graphic displays.
Managed many projects simultaneously, with customer involvement and total responsibility for day-to-day program planning and technical responsibilities for the project team.
Project Manager
Collaborated with management teams to deliver assigned programs – Developed group and individual timelines, assessed/identified potential bottlenecks in each project/program process.
Directed the recruitment process of key employees and the selection of consultants and outsourced vendors.
Developed and initiated internal processes to improve program delivery within specific timeframes.
Established goals and milestones as per the desired results to be generated by the project.
Developed strategies based on customer requirements; realized customer satisfaction; provided research and analysis to provide better solutions in support of goals.
Wrap Up
You need to make sure your resume stands out amongst the other candidates. It is the first impression that employers have of your work experience and skills. Use the samples above to put together a resume that best suits your needs and helps you get the job you want.