A Team Leader is responsible for making sure a team succeeds. Duties include providing guidance to team members, providing leadership, reporting results to managers, providing instruction to members, motivating teams toward goals, promoting team spirit, and developing strategies to succeed. Educational requirements to be a team leader are at least a high school diploma or equivalent, plus proven work experience as a team leader or supervisor. Skills needed to succeed are math and computer proficiency, creativity, leadership, management, goal orientation, problem-solving, critical thinking, innovative thinking, and good communication skills.
A good resume is well-written and concise. It should be neat and easy to read, listing previous experience in a logical order.
Our resume samples will provide you with multiple examples of what you can include when writing your resume.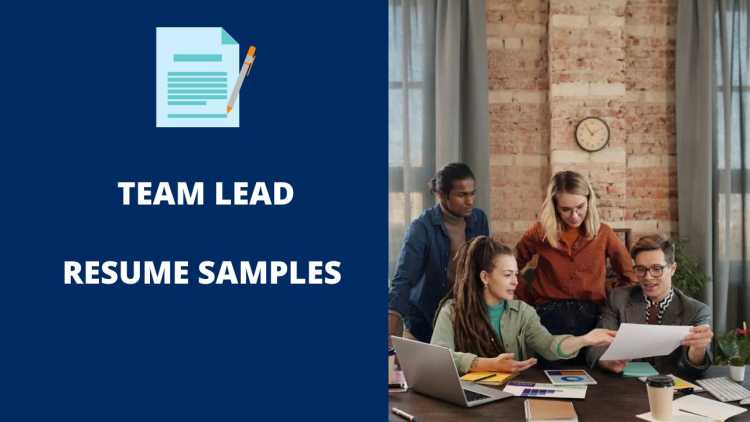 The Best Team Lead Resume Samples
These are some examples of accomplishments we have handpicked from real Team Lead resumes for your reference.
Team Lead
Supervised and interacted with small groups in child care/development activities and/or field trips (average 25 children).
Developed strong community relations with various community and school clientele.
Contributed to creating and implementing enrichment activities, arts and craft projects, and program quality.
Provided strong support to director-level activity as designated for supervisory and disciplined program requirements.
Evaluated and implemented new procedures to ensure high-quality customer service in a fast-paced environment.
Team Leader
Supervise a team of 15-25 call center agents, meet various deadlines, provide quality coaching, motivation and inspire agents to strive for excellence in a fast-paced environment to maintain one-call resolution.
I was also responsible for answering incoming calls from members, physicians, and pharmacists regarding prescriptions.
Focus on One-Call Resolution practices to ensure complete satisfaction.
Improved employee training program by creating, implementing, and updating a comprehensive learning guide.
Streamlined customer service processes by revising weekly call monitoring forms to reflect a more efficient format.
Team Leader
Worked directly with guests and provided customer service needs such as refunds, readmit passes or other various needs.
Motivated and guided my team into providing the best service possible.
Also fulfilled team member duties such as providing food service, managing a register, selling movie tickets, and cleaning auditoriums.
Cleaned auditoriums with up to three hundred people efficiently and quickly.
Recognized for outstanding quality performance; received award for meeting quality scorecard requirements while exceeding customer satisfaction goals.
Team Leader
Demonstrated knowledge of the company's mission, goals, and the ability to help employees successfully achieve them.
Developed training for new trainees on how to operate a wide variety of systems and equipment.
Successfully managed 100% accountability of over $600,000 worth of weapon systems.
Monitored and evaluated over 50 trainees in weapons and equipment handling, and safety exams.
Achieved 100% attendance during year-long employment; maintained positive relationships with all customers, clients, and coworkers through exceptional leadership skills.
Team Leader
Responsibilities include manning the POS terminal to balance the cash drawer, issuing receipts, and maintaining cleanliness at the workstation.
Taking orders from the customers, answering customer questions.
Process great proficiency in mathematics while putting into practice the company's standards for excellent customer service.
Oversaw the elimination of a $60,000 budget deficit; initiated advancement and support of department goals.
Coordinated and developed professional relationships with outside vendors to improve productivity and efficiency.
Team Leader
Worked in Global Trade Processing Team, wherein we received Instructions from the clients and then sort these faxes and forward them to the relevant teams for processing.
Identified instructions that can directly be sent via SWIFT instructions instead of fax instructions.
Prepare MIS for the senior management by using excel templates and reducing the time to prepare the MIS.
Formed relationships with clients, suppliers, local and state affiliates through leadership, professionalism, flexibility, and diplomacy.
Directed coordination of numerous team players towards achieving set goals within the legal framework of supervision.
Team Leader
Coordinated recruiting efforts, led potential candidate selection process, scheduled, and executed interviews in partnership with department managers to ensure sufficient staffing to meet business needs.
Executed new hire processes by starting with conditional job offers, conducting background checks, scheduling and conducting orientation, completing new hire paperwork, and scheduling training for all new team members including 30/60/90 day check-in's.
Performed weekly payroll execution by maintaining team members' records, processing paid time off requests, and verifying accuracy before the Monday morning deadline.
Assisted team members with requesting and executing leave of absence requests and guided team members through workers' compensation claims by educating team members and acting as a liaison between our team, corporate offices, and workers' compensation representatives.
Developed an expanded strategic vision for future growth through consultation regarding organizational structure.
Team Leader
Assisted in maintaining preparation and service areas in a sanitary condition.
Trained kitchen staff on the proper use of equipment, food handling, and portion sizing.
Displayed enthusiasm and knowledge about the restaurant's menu and products.
Routinely supported other areas of the restaurant as requested, including answering telephones and completing financial transactions for other staff.
Addressed diner complaints with kitchen staff and served replacement menu items promptly.
Team Leader
As a team leader, it is essential for me to know how to perform every task in the store.
Since I work in a fast-food business it's mandatory to get food out quickly, so I work at a fast pace and help everybody in the store to reach the speed goals.
I communicate with management and employees on a regular basis to ensure all tasks are being completed in a timely manner and make sure all food safety requirements are completed.
Supervised the administration of a construction company and department within a large retail chain.
Designed and implemented policies for employee training and development; trained, evaluated, and re-trained employees as a team leader in an organization with over one hundred employees.
Team Leader
Prepared or serve hot or cold beverages, such as coffee, espresso drinks, blended coffees, or teas.
Take customer orders and convey them to other employees for preparation.
Describe menu items to customers or suggest products that might appeal to them.
Stock customer service stations with paper products or beverage preparation items.
Accomplished company goals based on customer service and cost management through process improvement activities, including improvements in purchasing efficiency, inventory control, quality assurance, customer satisfaction surveys, and delivery schedules.
Team Leader
Led team of agents to resolve over 90% of calls taken, Boosting the company's status as number one call center handling resolutions.
Moved up to a managerial position after 3 months of employment by tirelessly working on solutions for customers that benefit both the companies interest and customer service.
Provided opportunities for my agents to move up within the company as well by providing them with effective communication skills coaching sessions weekly which lead to settler performances.
Assisted with hiring, interviewing, mentoring, and training new team members.
Played a lead role in the development of a new organizational structure for the department.
Team Leader
Use excellent leadership skills to assist in leading the front of the store to ensure that the store is running effectively.
Help and empower other staff to provide excellent customer service to the customers.
Created a friendly and welcoming environment for the customers by greeting the customers, answering any questions, and helping with their purchases.
Monitor daily, weekly, and monthly sales and communicate data to the front-end team members.
Resolve team member concerns, provide recognition of the members, and role model store expectations.
Wrap Up
You need to make sure your resume stands out amongst the other candidates. It is the first impression that employers have of your work experience and skills. Use the samples above to put together a resume that best suits your needs and helps you get the job you want.