A Theatre Technician helps the director and the producer of a stage play. Duties would include designing sets, helping build sets, troubleshooting lighting problems, troubleshooting sound problems, helping develop budgets, and ordering supplies. Educational requirements would be a BA in technical theatre or a related field. Skills required would include strong organizational skills, expertise in stage management, ability to read scripts, ability to understand floor plans, basic computer skills, and good analytical skills.
A good resume is well-written and concise. It should be neat and easy to read, listing previous experience in a logical order.
Our resume samples will provide you with multiple examples of what you can include when writing your resume.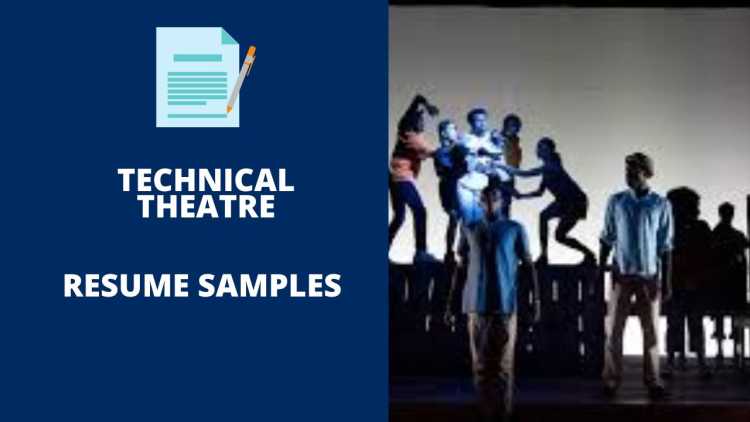 The Best Technical Theatre Resume Samples
These are some examples of accomplishments we have handpicked from real Technical Theatre resumes for your reference.
Theatre Technician
Creator, Planner, and Coordinator of large themed charity events and scheduled/ oversaw the work of over two dozen performers, numerous employees.
Acquired investors and sell banner ads, promo materials, and social media services to local small businesses.
Garnered multimedia press coverage of events and I have produced and promoted.
Writer, Producer, and Director of numerous independent short films in comedic, dramatic, and experimental genres as well as music videos and commercials.
The awarded highest score on the final stage of the Stanley Awards Competition was awarded to live performance technicians, as well as a stipend by the Theatre Literature and Technology Society.
Theatre Technician
Responsible for public relations with patrons of the theatre as well as performers.
Trained in lighting and sound design, Vectorworks as well as operating Genie Lift system.
Some other responsibilities include theatre maintenance, scenic construction and design, and installing orchestra shell fly systems.
Presented an award-winning theatrical experiment at the University of Southern California.
Performed in several productions; trained actors in improvisation, set construction, and carpentry.
Theatre Technician
I would assist any outside client who would use the Garland High School Auditorium with lights and sound and any other technical aspect that they needed in the theatre.
I had to work very long hours some days and sometimes I had to work until ten at night for a whole week.
Additionally, this last year I was responsible for scheduling all of our technicians to work the various jobs that happened every month and I had to facilitate communication between the clients and the technicians.
Achieved Michigan State University's Award for Excellence in Technical Theatre.
A winning design for Bill Cusack International Youth/Student Opera Competition.
Theatre Technician
Maintain various electrical equipment including lighting, soundboards, light boards and computer hardware.
Worked with clients to ensure events are set up correctly to include layout, technical equipment use and clean up/breakdown.
Install electronic and lighting equipment for events and productions.
Maintain Performing Arts Center building to include equipment maintenance, technology maintenance, and general building maintenance.
Learned to blend sound and light to create a multidimensional experience for audiences.
Theatre Technician
Worked with my father in the family stage production business providing installation, rental and sales of lighting, staging, platforms, curtains, flags, and costumes to the Bay Area theatrical community.
Clients included schools, churches, temples, professional clubs, hotels, theatre groups, city agencies and individuals.
Answered customers' questions about products, prices, availability, product uses.
Provided high-level and in-depth technical support by resolving inquiries in a manner and time frame consistent with clients' needs.
Designed, set up, and operated a plethora of magical theatre productions for clients.
Theatre Technician
Designed, constructed, and removed sets for musicals, dramas, ballets, and operas.
Drove a Genie to install lighting instruments in the black box theatre.
Collaborated with professional companies and student organizations to ensure successful events.
Collaborated with fellow technicians in the maintenance of theatre facilities.
Responsible for the setup and strike of stages, lighting and sound equipment, chairs, and other items and duties as needed.
Theatre Technician
Set up the equipment needed to produce special sound and lighting effects during performances.
Rigged and dismantled props and equipment, such as frames, scaffolding, platforms, and stages using hand and power tools.
Unloaded and loaded equipment from trucks and storage containers.
Wrote, produced, and directed several dramas including "An Evening at the Reddings", "Captain O'Neill", "The Lady in Red", "The Other Figure", and "Jack o' the Clock" under the stage name of Michael Clifford.
Wrote, produced, directed, acted in, and designed numerous radio dramas including "The Lark of Clouds" from March 12 to April 2009.
Theatre Technician
Worked with clients to ensure all needs are met and events run smoothly and efficiently.
Acted as a light board operator, soundboard operator, electrician, running crewmember, and stage manager for various productions and events.
Assisted in projects relating to the organization and running of the facility.
Participated in children's theatre production as a stagehand and technical assistant.
Designed, constructed, and installed sound systems for numerous productions including "A Christmas Carol," "The Lion King," and "The Wizard of Oz."
Theatre Technician
Constructed various sets, set pieces, and any other necessary materials.
Designed, hung, circuited, focused, and programmed original and unique lighting systems for several theatre productions.
Worked in a demanding and fast-paced environment and managed to be successful in highly challenging circumstances.
Crewed sound and lighting crews for various stage productions including 'The Sound of Music,' 'Bye Bye Birdie,' 'Pippin,' and the Chicago premiere of "Babe" at The Oriental Theater.
Performed technical theatre operations of a professional theatrical production such as maintenance, stage management, lighting design, sound engineering, and theatrical construction.
Theatre Technician
Coordinated travel arrangements, maintained database, and displayed top-notch customer service to students, faculty, and staff.
Quickly became a trusted assistant known for a "can-do" attitude, flexibility, and high-quality work.
Recognized and resolved complaints from students, faculty, and staff in a diplomatic manner.
Communicated effectively with multiple departments to plan events and help coordinate dozens of events.
Achieved award for outstanding quality from Open Door Theatre Company of Santa Fe for the production "Passion".
Theatre Technician
Worked with customers to help solve technical problems with their new products resulting in an increased satisfaction rating.
Volunteered with the local food bank Care and Share to help them reach their goal of providing nearly 20 million pounds of food to those in need in southern Colorado.
Worked to design an in-depth Sponsorship Packet for Pikes Peak Therapeutic Riding Center, a non-profit equestrian rehabilitation organization.
Developed and directed a community theatre show with weekly performances for over 30 years.
Established a theatre company with the production of six plays.
Theatre Technician
Worked with user groups in the facility ensuring a clean, safe environment before allowing the theatre to be opened to the public.
Created reports and equipment inventory spreadsheets. Aided in creating an annual theatre equipment maintenance policy and procedure.
Responsible for the safe operation and training in technical theatrical systems including lighting, audio, and rigging.
Participated in the selected student productions and received an award from Washington University's School of Visual Arts in New York City for overall excellence; assumed responsibility for total production costs ranging from $300 to $1,000.
Trained for a role of a lifetime as multiple characters in a collage of scenes from plays by William Shakespeare.
Wrap Up
You need to make sure your resume stands out amongst the other candidates. It is the first impression that employers have of your work experience and skills. Use the samples above to put together a resume that best suits your needs and helps you get the job you want.