Supervisors monitor the workplace to ensure high performance and productivity. In this role you would ensure deadlines are met, monitor workflow, maintain records, delegate roles, set goals, submit reports and hire new employees. Competitive applicants in this field will have a diploma/certificate in management or a relevant field. Supervisors must be attentive, organized, managerial, assertive, timely, and be able to communicate and multitask effectively.
A good resume is well-written and concise. It should be neat and easy to read, listing previous experience in a logical order.
Our resume samples will provide you with multiple examples of what you can include when writing your resume.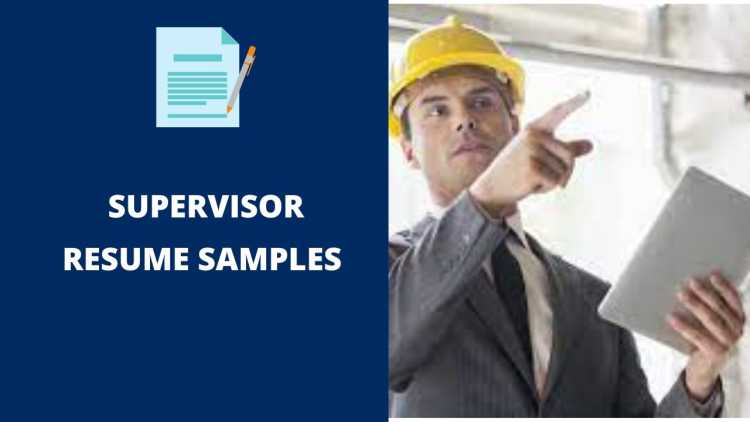 The Best Supervisor Resume Samples
These are some examples of accomplishments we have handpicked from real Supervisor resumes for your reference.
Supervisor
Flexible shift coverage in order to direct work activities, supervisor projects, inspect work quality, etc.
Train personnel for special assignment cleaning duties as required.
Maintained company quality programs and standards.
Client management interaction to confirm customer satisfaction.
Effectively trained non-productive staff members to increase efficiency and reduce errors.
Supervisor
Provided leadership for 15 to 20 team members in customer contact center.
Conduct monthly one on one coaching and trainings, issue monthly performance report card for each employee.
Provided direct support for entire call center as supervisor on duty, appraising key performance indicators, submit team results to management, conduct interviews for new applicants, enforce systems policies, and procedures.
Handled daily customer interactions effectively, resolving most customer queries within five minutes or less.
Trained a team of eight employees as Supervisors in two weeks.
Supervisor
Making sure all my employees are doing their job and over seeing that service is running smoothly.
Train all new Employees and make sure they all Provide excellent customer service.
Can resolve all problems that customers come across and make sure they walk out satisfied.
I maintain my composure under pressure and am always flexible.
Developed an organizational system for the newly opened branch office; organized office procedures and provided computer training to fellow employees.
Supervisor
Implemented appropriate rewards, recognition, coaching and corrective practices to align personnel with company goals.
Managed 1000 plus incoming calls via FreeVoice Queue software.
Ensured department employees were informed of new company policy and procedure.
Effectively distributed workflow among employees to maximize production among 48 employees successfully Increasing productivity within first 30 days of becoming supervisor.
Successfully streamlined customer service services for better efficiency in phone calls, e-mail communication, and deliveries during the holiday season.
Supervisor
Provided raw material to production floors, Conduct monthly safety meetings with team members.
Basic computer knowledge Microsoft word, power point, excel.
Trainer for electrical industrial equipment's, certified forklift on stand up, sit down, stacker, picker, electrical pallet jack.
Dock loading and unloading, shipping and Receiving. Part of High Performance Team (HPT) DOT Hazmat certified.
Supervised Telemarketers, saving the company over $70,000 in direct costs by improving working relations and reducing turnover.
Supervisor
Oversees daily operations of multiple teams staffing over 14 employees.
Responsible for negotiating, completing and submission of all contracts with Therapist, Aides and Outside vendors.
Oversees Inventory and Purchases of Medical and Office Supplies.
Expedited insurance claim processing while generating sales of over $1 million through personal communication with customers.
Assisted Accountants with over 30 regulatory filings including 10 quarterly corporate tax reports and 10 SEC filings.
Supervisor
Supervise case management teams of 6-12 supportive and intensive case managers who provide services to children and adolescents with an Axis I diagnosis.
Facilitated team and individual supervision on a weekly basis providing training and support on clinical, educational, and family resources.
Enforce the Blended Case Management model allowing for consistency in client's treatment with the objective of keeping the youngsters in their natural communities.
Restructured accounting department workflow by creating an efficient system utilizing an optional program that ended five years of duplicate data entry effort.
Developed new methods for streamlining data entry tasks for the company's middle managers; simplified a forty-year-old manual filing system, thus saving time and reducing errors.
Supervisor
At Q I supervise cleaning staff and ensure cleanliness at our sites is in compliance with the standards of both our clients and company expectations.
I report nightly to cleaning operations and provide valuable feedback, evaluating the performance of operators as well as the conditions within the sites I visit.
I also mentor field operators and encourage them to not only perform at maximum efficiently, but to uphold the reputation our company has established since it's start.
Effectively managed a team of 3 office workers and 2 interns as a Design Intern.
Created and managed an online database for the Design Department; used database to compile information detailing the cost of office supplies and time spent in design services.
Supervisor
While being supervisor, I handled currency and end of the day finances.
I was in charge of making sure team members were doing their jobs and prepared the store for the next day.
I stocked merchandise as well as preparing food and beverage items for customers.
Acquired knowledge of new software for managing design projects, including AutoCAD, Adobe Acrobat, InDesign, Photoshop, Illustrator, QuarkXPress, PageMaker Pro 9.0, Microsoft Office XP.
Implemented a database system which enabled standardization of document development; reduced errors in document circulation by 50%.
Supervisor
Worked at the forefront of the shift between linear TV Investment to holistic Video Investment (FEP and VOD).
Interpret the television marketplace to develop strategic recommendations for client and internal strategy teams.
Responsible for negotiating, purchasing and presenting appropriate media schedules to strategy and client teams.
Coordinate with internal planning team to develop media strategies to meet client goals.
Introduced database development to company's Design Department through education seminars.
Supervisor
Plan the content and direction of unit needs with trainers so they can adequately address issues in training sessions for newly assigned staff as well, integrate updated procedures for existing caseworkers.
Prepared weekly and monthly reports on the unit under supervision to determine information essential to management reports.
Consult with senior supervisor on a continuous basis to ensure that all policy initiatives are understood and implemented in a coordinated manner.
Prepared and monitor annual supervisory performance evaluations, and review subordinate staff evaluations.
Managed a team of 6 clerical workers; overseen schedules, completed management reports, and addressed employee concerns.
Supervisor
Developed Daily Action Plans to efficiently execute daily task and long term projects.
Analyzed and communicated sales trends to reach weekly and monthly goals.
Assists with special projects that will improve store as assigned by management.
Follows all company policy and procedures and notify management of any infractions.
Supervised 2 employees responsible for handling incoming mail from the corporate office, workflow management, and fulfilling duties to ensure timely delivery of mail.
Wrap Up
You need to make sure your resume stands out amongst the other candidates. It is the first impression that employers have of your work experience and skills. Use the samples above to put together a resume that best suits your needs and helps you get the job you want.