A Sous Chef is the second in command cook in a kitchen. Their duties include managing personnel in the kitchen, answering to the Executive Chef, being familiar with all activities in the kitchen, dealing with staff conflicts, menu planning, inventory and cooking. To work as a Sous Chef you are not required to attend culinary school but many do. Sous Chefs must demonstrate dedication, creativity, communication skills, teamwork, organization skills, knowledge of culinary arts and willingness to learn.
A good resume is well-written and concise. It should be neat and easy to read, listing previous experience in a logical order.
Our resume samples will provide you with multiple examples of what you can include when writing your resume.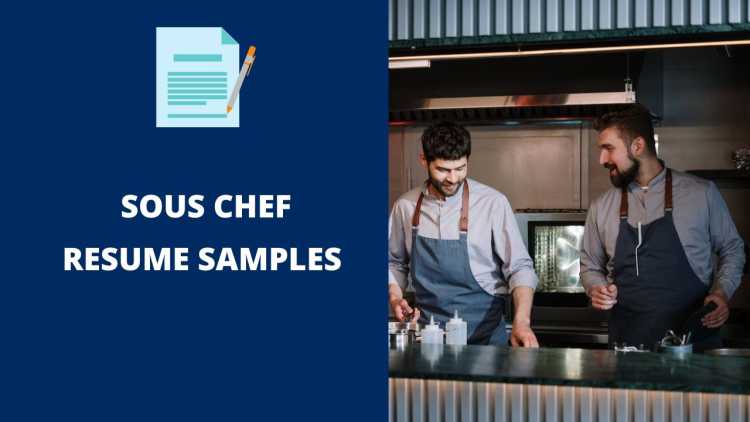 The Best Sous Chef Resume Samples
These are some examples of accomplishments we have handpicked from real Sous Chef resumes for your reference.
Sous Chef
Highly skilled in cooking, presentation, preparing and seasoning a wide range of foods, including appetizers, soups, salads, entrees, and desserts in keeping with prescribed menu recipes and techniques.
Comprehensive knowledge of setting deadlines to ensure the well-timed completion of executed dishes and all around work in the kitchen, set up stations, break down and cleaning.
Maintain, set up, breakdown and keeping the bar at its best for the benefit of our clientele.
Handling my own bar backing duties, creating custom cocktails, prepping garnishes, stocking fridge, filling ice box and cleaning dishware.
Implemented a menu of new culinary delights that surpassed the other restaurants in the city.
Sous Chef
Prepared daily production list and ensure that all workstations remained stocked before and during food production.
Ensure that food came out simultaneously, in high quality and in a timely fashion.
Performed additional responsibilities, although not detailed, as requested by the Chef at any time.
Follow proper closing procedures to ensure that the establishment is ready for the following business day.
Incited a colleague to strongly desire to return to my restaurant as an assistant sous chef because of the pride of establishment, high standards, and morale within the work environment.
Sous Chef
Cook and serve food in accordance with diet plans, recipes, and portions control procedures within facility guidelines.
Maintain smooth and timely operations in preparation and delivery of meals and kitchen sanitation daily.
Responsible for tracking and ordering necessary culinary items, including food, beverages, equipment, and supplies.
Engage with residents and colleagues discussing preferences, and offering Executive Chef new dish development ideas for special events.
Practiced effective time management skills while maintaining the required quality in my food creations during high-volume periods.
Sous Chef
Oversee deliveries, check the quantity and quality of received products and ensure stock rotation.
Analyze recipes with the chef to assign prices to menu items, based on food, labor, and overhead costs.
Supervise and assign duties and work stations to five employees in accordance with work requirements.
Plan special events (buffet, banquet, party): estimating amounts and costs of supplies and staff requirements for food preparation, ordering food items from suppliers and coordinating activities of food production and food service staff.
Earned the respect of fellow chefs and restaurant managers by remaining calm when under immense pressure while creating new meals and refreshing old recipes.
Sous Chef
Supervised and assigned tasks to kitchen personnel including cooks and porters.
Organized and maintained inventory, storage, and distribution of supplies.
Arranged daily menus and portioned ingredients.
Monitoring and maintaining stock of food products for available menus perform tasks efficiently and effectively in areas.
Learned to accept constructive criticism with a positive attitude in order to refine my cooking skills with a positive approach.
Sous Chef
Assisted in all prep work (baking bread, preparing beef, veggies, and various other items).
Responsible for maintaining order accuracy in a busy and fast paced environment.
Cooked with grills(standard and flat top), fryers, broilers, ovens, and stove top.
Responsible for ensuring the kitchen was opened and closed to necessary standards.
Focused on preparing quality and cost-effective meals for employees, residents, and visiting families.
Sous Chef
Prepared food items consistently and in compliance with recipes, portioning, cooking and waste control guidelines.
Reduced food costs by using seasonal ingredients, setting standards for portion size and minimizing waste.
Managed kitchen staff by recruiting, selecting, hiring, orienting, training, assigning, scheduling, supervising, evaluating and enforcing discipline when necessary.
Verified proper portion sizes and consistently attained high food quality standards.
Effectively managed relationships with employees and other food service staff to provide first-class service.
Sous Chef
Ensure that all dishes meet the culinary standard; Presentation, Taste and Temperature.
Do daily sanitation rounds in the kitchen while making sure all sanitation area is properly done.
Round/Check all refrigeration for proper temperature and all items are properly dated and labeled.
Prepared daily productions sheets for hot and cold items while converting recipes to daily census.
Accomplished menu preparation; demonstrated excellence in the kitchen by creating new menu items based on customer reviews.
Sous Chef
Currently working with a team of 2 other chefs to maintain a kitchen atmosphere that is of high quality, while also being profitable, fun, and challenging.
We serve a plethora of upscale small shared plates, while also executing an extensive rotating features menu.
We also provide off site catering, and full buyout events.
As a sous chef I am directly responsible for the execution and coordination of the food aspects of these events.
Performed food safety inspections of all operating units to ensure adherence to company policies, standards, and guidelines as assigned.
Sous Chef
I started as a line cook here and have worked my way into the sous chef position.
This place has allowed me to grow tremendously from a creative culinary stand point.
I'm primarily charged with running the restaurant and help with menu and recipe development.
We do have banquets that I help with as well.
Established long-term relationships with wholesalers, food handlers, manufacturers, and distributors.
Sous Chef
Managed the successful daily kitchen operations of a popular American Brasserie.
Supervised, coached and motivated a dynamic staff of +15 in a Chef driven, high volume, locally sustained, scratch kitchen.
Oversaw all aspects of preparation and production according to standardized recipes.
Facilitated the organization and cleanliness of the BOH to meet and exceed all health code regulations.
Chaperoned 17 waiters and 2 busboys during evening service to ensure food presentation, customer satisfaction, and kitchen cleanliness.
Sous Chef
Ensure smooth operations of the kitchen in the absence of the head chef.
Ensure a safe and hygienic kitchen environment by following standard operation procedures.
Oversee the work of kitchen staff such as preparation and marinating activities.
Assisted head chef in menu planning and recipe creation activities.
Presented creative menus for daily specials with new ingredients, such as corn-fed chicken and wild salmon, to the Executive Chef for selection.
Wrap Up
You need to make sure your resume stands out amongst the other candidates. It is the first impression that employers have of your work experience and skills. Use the samples above to put together a resume that best suits your needs and helps you get the job you want.