Real estate brokers do the legwork during the buying or selling of property, negotiating price and setting up sales. Their duties include managing real estate agents, marketing, communicating with customers, maintaining client relationships, conducting negotiations, and pricing client properties. To work as a real estate broker, you need to be licensed by the state, and while the exact license requirements vary heavily from state to state, most require a bachelor's degree. Real estate brokers must demonstrate knowledge of real estate, negotiation, sales, mathematics, customer service, computer literacy, team management, marketing, and interpersonal communication.
A good resume is well-written and concise. It should be neat and easy to read, listing previous experience in a logical order.
Our resume samples will provide you with multiple examples of what you can include when writing your resume.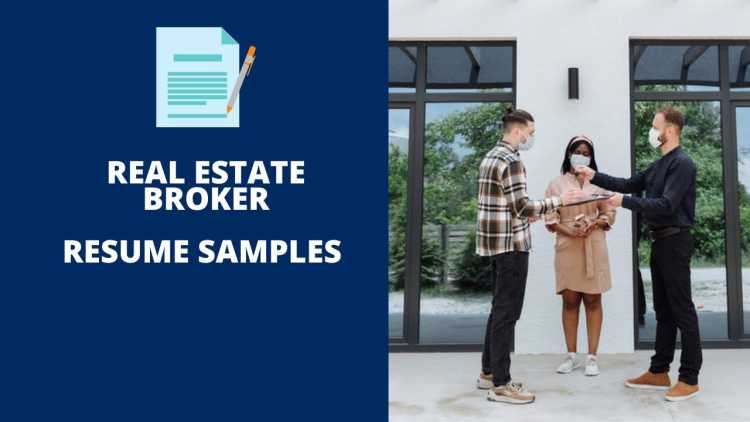 The Best Real Estate Broker Resume Samples
These are some examples of accomplishments we have handpicked from real Real Estate Broker resumes for your reference.
Real Estate Broker
Developed base for long-term sources of clients by using referrals, occupational, and special- interest groups to compile lists of prospects.
Determined clients' particular needs and financial situations by scheduling fact-finding appointments; determining extent of present coverage and investments; ascertaining long-term goals.
Developed a coordinated protection plan by calculating and quoting rates for immediate coverage action and long-term strategy implementation.
Designed around 300,000 square foot shopping center for community college as site manager and developer.
Founded rental facility with sixty units.
Real Estate Broker
Managed residential and commercial real estate salesforce.
Train new salespersons to properly negotiate contracts and ensure their compliance with Louisiana Real Estate Commission laws.
Communicate effectively with clients, attorneys, inspectors, lenders and other professionals.
Obtained Certificate of Occupancy for the property after title transfer, garnering lease rates double those in the area.
Obtained title to 365,000 square feet of retail space including office building and parking garage on the same day.
Real Estate Broker
Special recognition for outstanding production achievement through the Board of Realtors.
Set and managed appointments to show homes to prospective buyers.
Coordinating with lenders, home inspectors, and escrow companies to ensure that all terms and conditions of purchase agreement were met before closing.
Repurchased existing commercial property with 130% profit gain to the developer.
Developed a trusted client base and loyal customer base to accomplish over $300,000 in transactions.
Real Estate Broker
Provided guidance and assist sellers and buyers in marketing and purchasing property for the right price under the best terms.
Consult clients on market conditions, prices.
Mortgages, legal requirement and related matters ensuring a fair and honest dealing.
Managed budget to include expense tracking, reconciliation of bank accounts and expenses.
Performed as buyer's agent for a cooperative rehab transaction; recognized and rewarded with an "Outstanding Team Member Award" by the seller's agent.
Real Estate Broker
Develop and execute approaches to created value through knowledge of real estate markets and trends.
Coordinate with clients, tenants, landlords, legal, lease administrators, lenders, construction and governmental agencies.
Generate real estate presentations and other investment related summaries that make recommendations to tenants or landlords.
Conduct site selections, strategic planning, market analysis, and marketing materials for a wide range of commercial and retail clients.
Calculated offers for and successfully sold commercial real estate.
Real Estate Broker
Exploring sales opportunities in view of client requirements, resultant financial viability subsequent to evaluation of land/neighborhood properties, considering locations, trends and impending changes that could influence future values.
Coordinating with Real Estate agents, landlords and the head office for land purchase and leasing of properties/ spaces.
Reviewing contracts to conclude the deals, training and leading the agents to facilitate formal negotiation of the contract.
Researching and surveying new markets to boost property sales/ leasing in market for expanding business/ economic support to the company.
Organized, facilitated, and participated in community events that promoted positive relationships among diverse populations of people.
Real Estate Broker
Develop, implement, and execute strategies that targets residential and commercial business.
Created and implement automated business systems used in forecasting, accounting, strategic planning, and consultation.
Conduct on-going training with office staff; e.g., listing, sales and leasing paperwork, workplace safety, fair housing and any other type of training that may be needed on a daily basis.
Contributed to the success of a foreign exchange student with over seven years' correlation through business and cultural exchange programs between countries.
Established a business relationship with a seller by selling their property.
Real Estate Broker
Managed full operation of general real estate firm including assisting buyers and sellers with purchase of real estate transactions.
Review and analyze contracts to ensure compliance of Georgia Real Estate commission guidelines.
Led 4 top producers out of 7 real estate agents to generate $1,000,000 per year individually within challenging market by creative strategies.
Discovered, negotiated, and closed the sale of a residential condominium unit after identifying it as a buy-and-hold investment.
Negotiated the sale of multi-unit real estate property to an investor who was looking for an exit strategy.
Real Estate Broker
Maintained knowledge of real estate law, local economies, and fair housing laws, types of available mortgages, financing options, and government programs.
Monitored fulfillment of purchase contract terms to ensure that they are handled in a timely manner.
Obtained agreements from property owners to place properties for sale with real estate firm.
Competently maintained awareness of current income tax regulations, local zoning, building and tax laws, and growth possibilities of the area where a property is located.
Successfully maneuvered through difficult closing conditions for a buyer of commercial property, resulting in no missed payments on an agreement that precluded any default.
Real Estate Broker
Developed close relationships with area realtors, boosting referral network and promotion of neighborhoods and builders.
Created realtor and buyer incentives and strategies with agents, builders and buyers.
Developed excellent rapport with custom builders, leading to new opportunities for growth.
Increased the square footage of my home's roof by five feet, which provides additional space for my extended family to gather and enjoy life's blessings.
Fast closing on the sale of a townhouse; attained clients' approval in less than two weeks.
Real Estate Broker
Responsible for a wide range of sales and management duties in the Houston area, including sales and coordination of financing for residential property sales transactions, single family homes, income properties, and condominiums.
Prospect new client relationships and generate leads through cold calling, networking, and referrals.
Updated and maintain existing client accounts, develop property information packages, market value analyses, property investment analyses, and marketing reports.
Conduct owner representation and tenant / buyer representation for property sales and leasing.
Realized long-term, lucrative relationships with clients through high-value business services; earned a high net worth referral status.
Real Estate Broker
I am the Broker / Owner of East Texas Properties but have transitioned to online employment.
I have worked from my home office for most of my real estate career.
Real estate is a very customer service oriented career and I am an excellent communicator, adept at negotiating, multi-tasking, calendar and time management, contact management, data entry, reporting, marketing and more.
I work without supervision and am able to solve unexpected issues that may arise.
Trained 14 staff members to conduct real estate transactions in a professional manner; recommended by the office manager for advancement potential.
Wrap Up
You need to make sure your resume stands out amongst the other candidates. It is the first impression that employers have of your work experience and skills. Use the samples above to put together a resume that best suits your needs and helps you get the job you want.