Requirements analysts work in information technology to meet their clients' needs. Their duties include communication with clients, understanding the needs of their clients, interviewing employees, assessing computer systems, preparing reports, and monitoring task progress. To be a requirements analyst you need a bachelor's degree in computer science or a related field. It is also important to have excellent communication, organization, customer service, analytic, computer, oral and written skills.
A good resume is well-written and concise. It should be neat and easy to read, listing previous experience in a logical order.
Our resume samples will provide you with multiple examples of what you can include when writing your resume.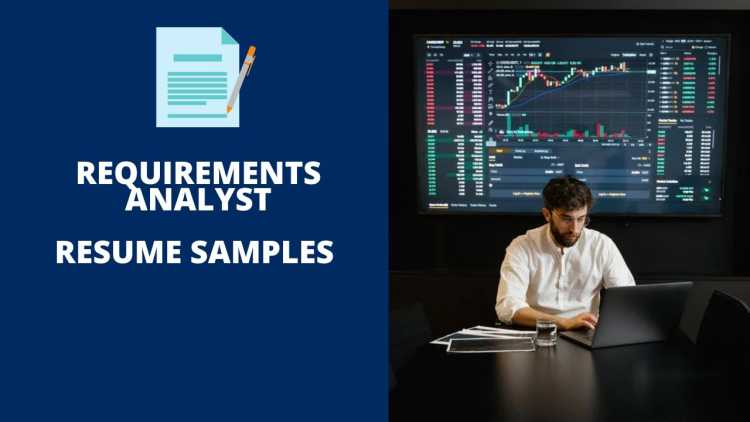 The Best Requirements Analyst Resume Samples
These are some examples of accomplishments we have handpicked from real Resume Requirements resumes for your reference.
Requirements Analyst
Analyzes operational and performance requirements for lethality, vulnerability, mobility, logistics, maintenance, human engineering, reliability and maintainability.
Develops operational concepts and designs to evolve and enhance war-fighting capabilities.
Stays abreast of current combat development objectives and materiel, organizational requirements and current holistic combat development objectives. Develops study plans.
Instituted and enforced industry requirements by creating accurate information structures, documenting procedures, and maintaining schedulable schedules for 7,000 units.
Created procedures for compiling and electronically transmitting 10,000 reports by 5 PM to 270 PCs.
Requirements Analyst
Worked on Agile projects throughout my tenure at Nationwide.
Some of the deliverables were leading the offshore team, mentoring new analysts onsite, creating the backlog, high-level estimates, user story map, use cases, and story cards.
Worked on a project to expand policy self-service capability to existing states integrated to Guidewire Policy Center where customers can complete the policy change online.
Researched and correctly solved multiple 2-D & 3-D math problems within 30 minutes under rotating hyperboloid constraints.
Properly designed meeting plans that were revised six times due to unforeseen circumstances.
Requirements Analyst
Co-managed the creation and completion of the Initial Capabilities Document for the cyberspace persistent training environment.
Served as the records manager for the capability and resource integration directorate.
Assisted in the Integrated Priority List submission and management process.
Provided weekly updates to the division chief on topics going through the cyber and force support functional capabilities boards.
Successfully demonstrated proper communication skills when responding to interview questions asked by both human resources staff and management team members.
Requirements Analyst
Assisting in enhancing products: Maven, Maven+ (private), Maven Home (private residential), Maven Pro, Hub (Uber partnership), Gig (Lyft partnership), BookbyCadillac.
Currently working on unifying the products into one product platform, at the moment specifically a unified admin portal integrated with Siebel, a Oracle CRM tool.
Collaborating with domestic & international cross-functional technical & business teams to document & determine scope of business requirements (high-level).
Leading requirements details, user flows, & defining the minimal viable product (MVP).
Analyzed the impact of new requirements on software development, quality assurance, and infrastructure systems.
Requirements Analyst
Worked on team to evaluate an integrated Application Lifecycle Management tool suite.
Created requirements templates to assist in customer signoff and internal communication.
Integrated Axiom requirements management software with MS Word, MS Visio and UMLet to produce comprehensive user requirements documentation.
Researched and proposed new technologies to maintain advance system functionality.
Efficiently deployed a productivity software app for users to automatically update their schedules.
Requirements Analyst
Gathering requirements and scoping of the Invoice Generator project, creation of data structure of all data consumed by Batch Services, data mapping to appropriate templates for Invoices and Deduction Notices.
Wrote user stories and analysis of the Invoice Generator project in its initiation.
Interact with Business teams, Salesforce Developers and tech teams.
Documenting new roles and buttons for the Billing and Accounting screens in Salesforce for the on boarding of employees.
Improved testing efficiency with a task management tool that integrated with the bug reporting system and our test management system.
Requirements Analyst
Requirements Analyst in support of Space and Naval Warfare Systems Command (SPAWAR).
Reviewed client documents and deliverables for consistency with the operational requirements identified by SPAWAR's Networked Tactical Common Data Link (NTCDL) Program.
Established traceability between the NTCDL Capabilities Development Document and a draft system performance specification (for a potential materiel solution); identified disconnects and presented to the client, who then used the information to orchestrate updates to both documents.
Streamlined requirements management processes; increased speed of fulfillment by 40% in one year.
Met and exceeded 100% of set sales quota for three consecutive years.
Requirements Analyst
Requirements Analyst using Telelogic/IBM Dynamic Object Oriented Requirements System (DOORS®).
Develop Requirement-related documentation and facilitate the "document approval process".
Responsible for maintaining engineering documents related to but not limited to: Requirements, Specifications, Trace Matrixes, Product Requirements Documentation.
Responsible for the analysis and resolution of conflicts originating from three locations involving several departments and multiple personnel.
Accomplished a team goal by implementing a new process that eliminated weekly production errors, decreasing project costs by 5%.
Requirements Analyst
Communicate with a variety of stakeholders across organizational roles to identify and prioritize operational and application requirements for routine system functions as well as analytic and error handling processes for the Defense Personal Property System (DPS).
Possess business and technical knowledge to review workflow, documentation and user surveys, and analyze data to identify solutions to a business issue.
Document requirements with tools such as flowcharts and Unified Modeling Language notation to created graphic models of applications and/or user interfaces being developed or modified.
Author software requirements specifications and present to software developers to ensure applications meet user requirements.
Identified a safety hazard and presented options to management resulting in the adoption of an improved production process that saved money, reduced risk, and was less risky to user's health.
Requirements Analyst
Completed business requirements supporting the Minority AIDS Initiative (MAI) system that allows grantees to submit plan and annual reports bi-annually to HAB; validated requirement artifacts, managed traceability, and orchestrated communication between stakeholders and the technical team.
Supported the AIDS Education and Training Centers (AETC) program system by analyzing business processes and working closely with stakeholders to understand the business program and complete requirements.
Led comprehensive requirements analysis and verification sessions, ensuring requirements were complete and conformed to internal procedures and standards; handled peer reviews of work products to ensure completeness for enhancements to the AIDS Drug Assistance Program (ADAP) Data Report system.
Increased productivity by 25% through better utilization of resources, including work-flow analysis, staff training, change in procedure, startup time reduction.
Accurately analyzed user requests and developed project timelines.
Requirements Analyst
As a requirements analyst in the Software Development team at Life South, I am responsible for researching business processes and regulatory requirements as well as generating and maintaining software documentation.
Evaluating business processes to determine possible improvements through software.
Interfacing with end users and developers to created process documents, design specifications, and use cases.
Successfully designed and implemented online purchasing system for several national retailers, including Target, H&M, Best Buy, Victoria's Secret, and more.
Received leadership award from the National Institute of Product Development Management.
Requirements Analyst
Participating in the project process from start to finish, including initial brainstorming sessions with the creative and technical teams.
Creating wireframes, storyboards, user flows, process flows, operational maps, and case processing prototypes to effectively communicate interaction and design with end users and development teams.
Presenting actionable UX recommendations & artifacts to product owners and executive leadership.
Oversaw financial systems for a small start-up company; assisted client in acquiring additional funding and developing new strategic direction for the company.
Developed tools for complex financial analysis; worked as part of a team to implement business processes at a large hospital system.
Wrap Up
You need to make sure your resume stands out amongst the other candidates. It is the first impression that employers have of your work experience and skills. Use the samples above to put together a resume that best suits your needs and helps you get the job you want.