Nursing Assistants help patients with basic living activities of their daily life. Job duties include bathing, dressing, preparing meals, feeding, taking patient vitals, assisting with medications, cleaning, and general care. You will need a high school diploma or GED to work as a Nursing Assistant. Nursing Assistants need to be patient, attentive, helpful, able to follow directions, have great communication skills, have good listening skills, and be punctual to be successful.
A good resume is well-written and concise. It should be neat and easy to read, listing previous experience in a logical order.
Our resume samples will provide you with multiple examples of what you can include when writing your resume.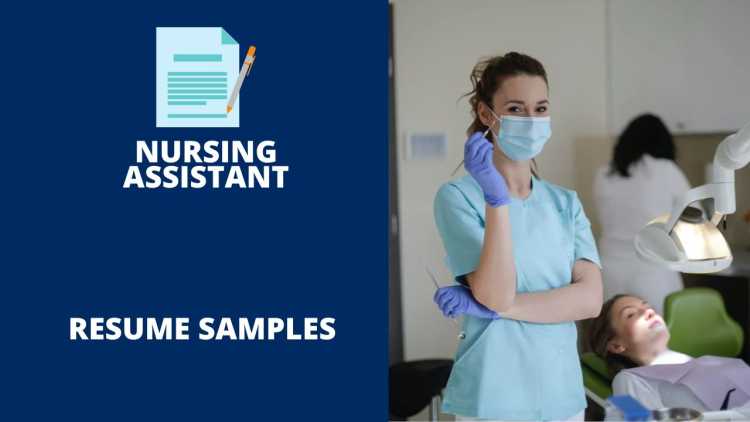 The Best Nursing Assistant Resume Samples
These are some examples of accomplishments we have handpicked from real Nursing Assistant resumes for your reference.
Nursing Assistant
Experienced healthcare worker with providing knowledge and support of a fast-paced environment handling confidential paperwork and providing excellent customer service.
Excellent time management and leadership skills, while improving the concerns of quality of care so that, it can produce work in an orderly and attractive way to ensure that tasks are completed correctly and on time.
Take personal responsibilities for professional development, practice and education while maintaining a safe work environment.
Minimized patient discomfort by maintaining cleanliness in the nursing department.
Observed patient patients and responded to their needs, concerns, and questions.
Nursing Assistant
Float to all units, as needed, performed nursing assistant and patient care duties as assigned.
Comply with HIPAA standards in all patient documentation and interactions.
Maintain patient stability by checking vital signs and weight; testing urine; recording intake and output information.
Provided patient comfort by utilizing resources and materials; answering patients' call lights and requests; reporting observations of the patient to RN.
Effectively administered pharmaceuticals on a daily regimen.
Nursing Assistant
Provides patients' personal hygiene by giving bedpans, urinals, baths, backrubs, shampoos, and shaves; assisting with travel to the bathroom; helping with showers and baths.
Provides for activities of daily living by assisting with serving meals, feeding patients as necessary; ambulating, turning, and positioning patients; providing fresh water and nourishment between meals.
Provides adjunct care by administering enemas, douches, nonsterile dressings, surgical preps, ice packs, heat treatments, sitz and therapeutic baths; applying restraints.
Redirected patients to appropriate care and services; performing light housekeeping duties including gardening, cleaning, and meal preparation.
Was promoted to the position of Nursing Assistant after training in Psychiatric Unit.
Nursing Assistant
Assisted nursing staff with all aspects of daily care including bathing, feeding, and clothing.
Identified and documented any abnormal changes to patient condition both physical and emotional.
Maintained cleanliness of patient's room and provided genuine companionship.
Received award for outstanding contribution to patient care; involved in helping a patient in a wheelchair back onto his feet after being hit by a car.
Established nursing assistant team within the unit, coordinated instruction, and training.
Nursing Assistant
Provides direct patient care under the direction of the RN and maintains a safe environment.
Provides direct hygiene and comfort care to patients including bathing, toileting, oral hygiene, incontinence care, and bed making.
Takes vital signs, performs glucose finger sticks, and collects specimens.
Possessed skills at moving patients safely and efficiently within the unit, especially physical therapy patients.
Trained other nursing assistants in proper techniques for handling equipment, assisting with baths, and preparing beds for incoming patients.
Nursing Assistant
To assist patients with activities of daily living like eating and bathing.
Also, help provide basic care such as assisting with peritoneal care and restroom assistant.
Transport patients throughout the hospital to designated treatment areas.
Provided a safe, clean, and clutter free environment for all patient, family members, and staff.
Maintained focus on patient needs while working in a hospital, physician's office, and/or nursing home.
Nursing Assistant
Sanitize all patient lounging-areas, nursing station, medical consultation rooms and equipment.
Restock patient and nursing supplies daily, weekly, monthly or as scheduled.
Search patient charts to ensure all information is labeled with correct patient identification labels, date and time.
Read Nursing notes thoroughly on individual patients to gain insight regarding typical patient interaction.
Was recognized with the Caring Heart Award for compassionate care of patient's physical and emotional needs.
Nursing Assistant
Assisted clients with daily living skills, which includes: toileting, bathing, serving food and attending activities and outings.
Completed documentation for each client served which recorded daily activities and health procedures.
Assisted Nurse with task as assigned and administer medication under the supervision of a nurse.
Respected by patients and peers; featured "Top Employee" in the Empirical Times.
Aided patient recovery with special projects; developed programs for relaxation, nutrition, stress management, palliative care, and aging.
Nursing Assistant
Assisted nurses with diverse functions including IV management, catheters and telemetry.
Supervise patients with diminished capacity and monitor safety hazards.
Collaborate effectively with interdisciplinary team to carry out doctor's orders and optimal treatment.
Bathe and groom patients, change bedding, and provide basic patient care.
Established rapport with patients through creative activities; formed a band for cancer patients to express feelings through music.
Nursing Assistant
Responsible for total patient care which include bathing and feeding.
Assisted with personal and dental hygiene and perineal care.
Monitored and recorded vital signs which included blood pressure, height and weight.
Observed, documented, and reported any medical or behavioral changes to Nursing Manager.
Ensured that medical equipment was working properly; conducted daily inspections and issued maintenance requests as needed.
Nursing Assistant
Provided high-quality nursing assistance such as hygienic care, vital sign testing, and assist with activities of daily living to patients on surgical units while maintaining hospital safety standards.
Assisted nurses with diverse functions in a variety of procedures and treatment modalities such as dressing changes, catheter insertions, and telemetry monitoring.
Prioritize patient satisfaction to improve patient relations and consistently deliver excellent nursing care.
Identified workplace hazards and corrected them as appropriate.
Ensured that patient was free from pain and received adequate medication.
Nursing Assistant
Provided excellent customer service when responding to patient/family requests.
Responsible for monitoring the vital signs of post/anti partum patients which include blood pressure, heart rate, respiration and temperature.
Provided needed personal items like water pitchers, pads, icepacks, and bed linens.
Performed non-nursing duties as delegated, such as cleaning, stocking, answering phones, clerical support, and providing directions.
Volunteered to assist cystic fibrosis patients; served to increase their quality of life.
Wrap Up
You need to make sure your resume stands out amongst the other candidates. It is the first impression that employers have of your work experience and skills. Use the samples above to put together a resume that best suits your needs and helps you get the job you want.