Help Desk Technicians help and guide people with computer issues. Their duties are answering phone calls/emails, taking questions, troubleshooting computers, resolving any issues, helping people set up and maintain their computers, and computer education. To work as a Help Desk Technician you will need a degree from a technical college, an A.A. or B.A. in a computer major, or a high school diploma/GED with experience. Help Desk Technicians should have excellent verbal communication skills, listening skills, customer service skills, documentation/writing skills, problem-solving skills, computer knowledge, and patience to be successful.
A good resume is well-written and concise. It should be neat and easy to read, listing previous experience in a logical order.
Our resume samples will provide you with multiple examples of what you can include when writing your resume.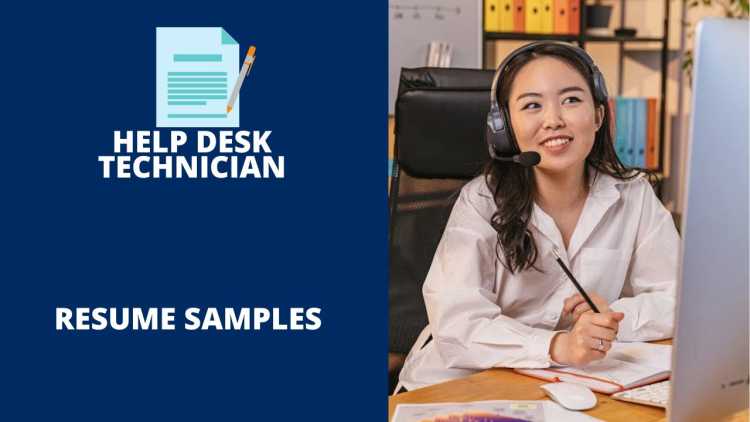 The Best Help Desk Technician Resume Samples
These are some examples of accomplishments we have handpicked from real Help Desk Technician resumes for your reference.
Help Desk Technician
Escalated issues to the proper help desk associate when necessary and followed up on any escalated issues, all within a timely manner.
Communicated thoroughly with client representatives and customers, enabling effective information exchange and efficient process management.
Documented all inquiry activities in the appropriate reporting system.
Identified, solved, and documented customer problems with computer hardware and software.
At the request of the Director, prepared meeting agendas and minutes.
Help Desk Technician
Provided password reset support for the various critical applications; using Loan Prospector, Selling system, Workout Prospector, Service Loan applications and other Freddie Mac proprietary technology.
Perform/assist in troubleshooting and problem analysis by working with application teams, network teams, vendors, etc. in diagnosing production user access issues.
Troubleshoot client-side network connectivity issues, including digital authentication, remote access, secure Wi-Fi and wired connectivity to the internal network.
Assisted in documenting procedures for initial staff orientation.
Streamlined office operations by researching procedures and modifying processes.
Help Desk Technician
Created and set up all new users including hardware, software, AD accounts and email.
Troubleshoot both over the phone and using RDP/Team viewer/LogMeIn all user issues.
Keep VM servers and client PC's up to date on patches using continuum online agent.
Received recognition for time management skills; completed tasks on schedule for ten out of twelve months in a row.
Performed computer data entry and filing of files in accordance with company guidelines.
Help Desk Technician
Responds to incoming calls, answers questions related to store operations and provides initial troubleshooting of basic hardware and software issues pertaining to retail point-of-sale equipment.
Responsible for complete and accurate resolution of store personnel requests; provides answers by identifying problems, researching issues, and guiding store personnel through corrective steps.
Identifies and escalates technical trouble trends impacting store operations.
Assigned unresolved issues to the appropriate resolving groups via trouble tickets.
Measured/Assessed work performed based on quality, speed, and efficiency; provided direction to performing employees well in advance of deadlines.
Help Desk Technician
Provided technical assistance to over 3800+ users in person, via phone and remotely for the following technologies: Windows and Mac OS based end points (Laptops, Desktops & Thin Clients) Tablets & Smartphones (IOS & Android).
Install, test, maintain, and check end user workstations and interrelated hardware and software.
Install and maintain software, service packs, patches, and anti- virus updates.
Maintain user account information including rights, security and systems groups with Microsoft Active Directory.
Attended career fairs and seminars where I was able to network with others who have similar interests and skills.
Help Desk Technician
First point of contact for customers with corporate devices such as, Apple iPhone, Apple iPad, Android, and Mobile Scanners.
Assisting clients with hardware/software connectivity, email, and password issues.
Remoting into devices using Log mein Rescue to install, modify and repair software issues per knowledge base system.
Met new people and developed relationships with those I came into contact with through networking opportunities.
Accurately fielded and acted upon customer queries, rising to the fifth level of escalation in a timely manner for the completion of over 4,000 calls per month with a 98% customer satisfaction rating.
Help Desk Technician
Provided inbound technical customer support, assist with resolving customer issues, and maintain all proper documentation.
Performed initial level of problem identification and attempts to resolve when appropriate; otherwise, documents all troubleshooting efforts in problem ticket and makes prompt notification to responsible party for resolution in order to minimize the amount of time taken to resolve customer issues.
Assisted with monitoring and tracking incidents to ensure resolution occurs within the customer Service Level Agreement.
Performed incident notification and escalation to ensure problems/request/issues are communicated effectively and receiving proper management attention.
Displayed leadership abilities by managing and mentoring five team members.
Help Desk Technician
Field Technician work all around North Dallas in combination with time management skills and customer service.
Remote Technician work on client servers, routers, printers, and endpoints.
Cleanup and improvement of client infrastructure and devices as far as system health and functionality is concerned.
Installation of WAP and personal switches in order to increase number of endpoints connected to the LAN via WIFI or network cable.
Resolved customer problems with a proactive approach.
Help Desk Technician
Phone Technical Assistance for over 18, 000 employees in the US, offshore, and internationally.
SAP Support, Active Directory, SCCM, Symantec Endpoint Protection, Cisco Voice.
Worked independently on the overnight shift to provide support to US and International employees.
Worked extensively in the Tivoli ticket management system to assist and track customer issues.
Worked overtime to purchase new computer equipment and software to increase system efficiency.
Help Desk Technician
Respond to requests for technical assistance from internal and external customers via phone or email.
Diagnose and resolve technical hardware and software issues and redirect problems to the appropriate resource when applicable.
Track and route problems and requests and document resolutions.
Prepared presentations for organization and training sessions to promote employee awareness of new technologies.
Designed and redesigned processes to streamline workflow procedures.
Help Desk Technician
Provides answers to clients by identifying problems; researching answers; guiding client through corrective steps.
Improves existing programs by reviewing objectives and specifications; evaluating proposed changes; recommending changes; making modifications.
Maximizes use of hardware and software by training users; interpreting instructions; answering questions.
Performed complex procedures in computer systems, including but not limited to: task scheduling, account balancing, inventory retrieval, problem analysis, and troubleshooting.
Competed successfully in the annual Clery game processor contest.
Help Desk Technician
Providing support over a live chat system and phones to customers regarding their website, email functions, or other support need.
Troubleshooting issues and provide timely resolutions directly to the customer.
While having the ability to diagnose and solve problems with varying complexity, using multiple tools and systems to interact and communicate effectively cross-functionally and with various levels of the organization.
Managed an error-free data entry and processing center for over $50,000 in funds utilizing a computerized customer payment processing system.
Researched related career opportunities through high school and college counseling programs on campus.
Wrap Up
You need to make sure your resume stands out amongst the other candidates. It is the first impression that employers have of your work experience and skills. Use the samples above to put together a resume that best suits your needs and helps you get the job you want.