Healthcare Administrators manage healthcare systems, such as hospitals or clinics to make sure patients get great healthcare. Their duties include managing healthcare professionals, creating rules and procedures, enforcing company policy, medical record-keeping, reviewing patient statuses, and training employees. You will need a B.A. or B.S. in Healthcare Administration to work as a Healthcare Administrator. Healthcare Administrators must be efficient, punctual, have great communication skills, self-motivated, organized, have planning skills, and be great at making decisions to be successful.
A good resume is well-written and concise. It should be neat and easy to read, listing previous experience in a logical order.
Our resume samples will provide you with multiple examples of what you can include when writing your resume.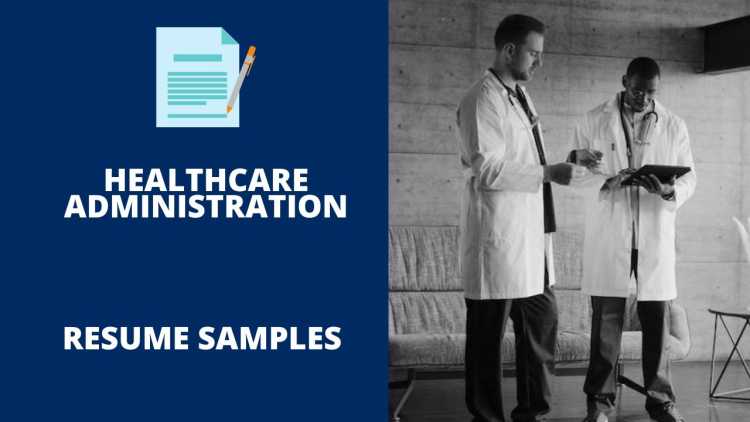 The Best Healthcare Administration Resume Samples
These are some examples of accomplishments we have handpicked from real Healthcare Administration resumes for your reference.
Healthcare Administrator
Handled the tasks of commissioning local health care through residential management, community health services and general practitioners.
Liaise with medical staff and oversaw day-to-day activities of the organization.
Handled the responsibilities of negotiating with medical and non-medical staff.
Interacts with people in external organizations like private sector, voluntary groups and social services.
Resolved emergency situations, whether medical or financial, by promptly utilizing available resources.
Healthcare Administrator
Demonstrated analytical and problem-solving ability by addressing barriers to receiving and validating accurate HCC information.
Carefully reviewed medical records for accuracy and completion as required by insurance companies.
Acquired insurance authorizations for procedures and tests ordered by the attending physician.
Examined, filed, and maintained patient records in accordance with regulatory requirements.
Maintained accurate records in accordance with HHA policies and procedures.
Healthcare Administrator
Collaborated with Office Managers to implement process improvements that ultimately helped to enhance team productivity, reduce costs, grow practice revenues, and improve service delivery while also increasing employee morale and retention.
Key contributing team member in the companywide implementation of Electronic Medical Records (EMR) system.
Trained employees in use of EMR and Practice Management (PM) systems.
Consistent record of effective teamwork and collaboration with physicians, nurses, vendors, IT staff, clinical engineers, and administrative personnel.
Responded to phone calls from patients and inquiries from health care providers.
Healthcare Administrator
Managed all aspects of a 60 beds (40 LTC, 20 Sub Acute Rehab) including budgets, staffing, bundled payment programs, State Survey Readiness, CMS 5-Star Quality Measures, Payroll Based Journaling, wetc.
Implemented a Comprehensive Communication Plan to close communication gaps (Facility to Resident/Family, Facility to Medical Providers, and Management to Associates.
Member of the Atlantic Healthcare ACO in the High Performing Network.
Trained new employees in the company's method of record keeping.
The administrator of a 31,000 patient hospital which included physicians, therapists, staff assistants, and clerical personnel.
Healthcare Administrator
Resolves complaints by directing them to a physician, supervisor or hospital representative with facts for resolution.
Prepares informative manuals and training guides to assist healthcare organizations in managing the healthcare system more efficiently and effectively.
Conducts organizational studies and evaluations and researches possible solutions to problems.
Critically observes and communicates with employees and managers on organizational issues and provides solutions.
Directed and supervised the daily affairs of the unit.
Healthcare Administrator
Plan, implement, evaluate, and direct all of the organizations systems and operations to include annual budgeting.
Knowledge of financial management, reporting locally to the Community Executive Director through financial presentations.
Sales forecasting, brand marketing, and strategic planning for maximum market growth.
Directed employee relations and retention committee and customer service evaluations.
Handled the activities pertaining to all hospital equipment in keeping with federal, state, and local regulations.
Healthcare Administrator
Successfully planned, coordinated, and executed annual Strategic Planning conferences; developed Strategy Maps and Balanced Score Card metrics to measure performance/ increase efficiency.
Managed $409K after-hours nurse advice line contract for over 240K healthcare beneficiaries – avoided $1.2M Emergency Room costs annually.
Drafted/administered agreement between military healthcare system and over 33 local urgent care centers – increased access to care for over 240K healthcare beneficiaries.
Maintained a staff of 140 on-site and contractor employees during peak seasons.
Provided administrative services to an administrative unit comprised of 28 locations in 33 states.
Healthcare Administrator
Conducts performance appraisals and providing performance feedback; reviewing and providing direction, document verbal and written coaching level corrective actions, as needed.
Train and supervise medical records personnel regarding the daily operations of the medical records department.
Ensures safe care to patients, adhering to policies, procedures, monitoring, and standards within budgetary specifications; including time management, supply management, productivity, and accuracy of practice.
Demonstrates ability to collaborate, communicate, set priorities, and organize work in order to meet deadlines; while ensuring compliance with established policies and regulations within department.
Performed all related assistant director duties including training, scheduling, performance evaluation, and production reports for the practice facility.
Healthcare Administrator
Scheduled appointments, registered patients and distributed sample pharmaceuticals as prescribed.
Precisely completed appropriate claims paperwork, documentation and system entry.
Prepared patient charts, pre-admissions and consent forms as necessary.
Determined prior authorizations for medication and outpatient procedures.
Printed and reviewed monthly patient aging report and solicited overdue payments.
Healthcare Administrator
Ultimate responsibility for overall performance of 90 bed skilled nursing facility using strong leadership.
Reorganized entire departments to coincide with personal vision of facility creating lasting success.
Developed lasting relationships with hospitals and physicians, including revamping physician staff.
Directed all daily activity throughout entire facility including all physician/nurse related issues, staffing, family/employee grievances, productivity, cleanliness, and quality of care.
Maintained an average utilization rate of 95 percent under Medicare's National Health Service Corporation (HIC).
Healthcare Administrator
Managed and organize clinical space and personnel to improve efficiency and flow.
Establish work schedules and assignments for personnel according to hours of operation, workload, space, and equipment availability.
Managed time off process for personnel ensuring proper provider staffing is in place for appropriate access to care.
Enforce established objectives, criteria, and hours of operation to ensure increased access for all patients.
Optimized workflow, improved hospital record-keeping, and increased production at the fast-paced facility where the average records processed per day was approximately 275.
Healthcare Administrator
Provided logistical organization and contractual recruitment of practicing medical physicians.
Designed educational programs which encompassed healthcare screenings as a social outreach program geared towards large scale groups.
Attained required objectives designed to increase (Radiofrequency Vein Ablation)revenue and increase market share.
Managed procedural and product expertise to targeted clients and physicians through field travel, meeting attendance, educational seminars, and OR case observations.
Served as an advisor for five doctors and coordinated care for a total of thirty-two patients.
Wrap Up
You need to make sure your resume stands out amongst the other candidates. It is the first impression that employers have of your work experience and skills. Use the samples above to put together a resume that best suits your needs and helps you get the job you want.