Construction Laborers are laborers who work at construction sites that are vital to repair and construction. Their roles include loading or unloading equipment, operating vehicles and machinery, handling hand and power tools, taking apart and putting together structures, prepping sites, assisting coworkers, and general manual labor. To work as a Construction Laborer, a high school diploma/GED is preferred, and one year of experience in construction or general labor is preferred. Construction Laborers must be able to lift 50 pounds, have excellent communication skills, be a team player, work well under supervision, dependable, good attention to detail, achievement-oriented, and adaptable/flexible.
A good resume is well-written and concise. It should be neat and easy to read, listing previous experience in a logical order.
Our resume samples will provide you with multiple examples of what you can include when writing your resume.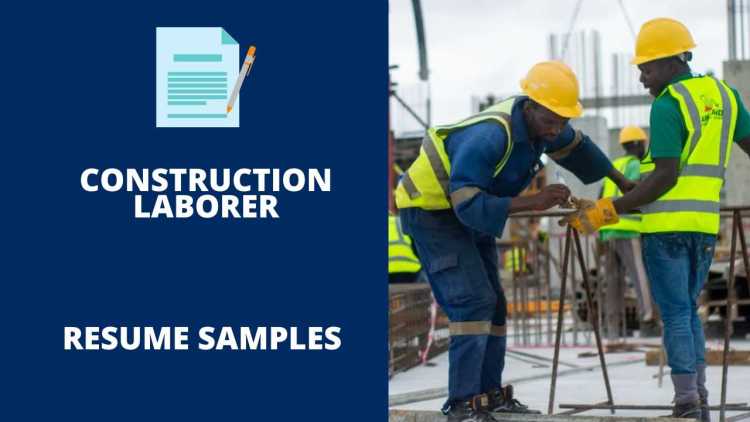 The Best Construction Laborer Resume Samples
These are some examples of accomplishments we have handpicked from real Construction Laborer resumes for your reference.
Construction Laborer
Extensively trained in plumbing, carpentry, painting, plastering, machine servicing and installation.
Assisted skilled workers with construction projects in all phases of rough and finish carpentry.
Cut materials to specified sizes for installation using power saws and tile cutters.
Painted walls, exteriors and interiors of buildings and furniture using brushes, rollers and spray guns.
Met deadlines, planned work schedule, and completed projects on time.
Construction Laborer
Responsible for erecting and disassembling scaffolding and shoring braces.
Participate in broad range of construction projects involving demolition and site maintenance.
Responsible for contributing to a safe workplace environment by recognizing and reporting safety hazards.
Inspected building materials for construction sites and quality control issues.
Trained six employees in all aspects of inspections, quality control, and safety regulations.
Construction Laborer
Performed framing, drywall installation, interior/exterior demolition, fence installation, painting, structure installation, and concrete work.
Performed concrete form setting, concrete pouring, concrete finishing, and concrete demolition.
Operated machinery and tools including skid-steer, curb machine, saws, and power tools.
Provided support for community-based programs in the mission to eradicate poverty by improving and expanding educational opportunities, medical services, housing options, job development, and employment training programs.
Increased knowledge of local weather conditions during hurricanes to aid early detection of hurricane threats.
Construction Laborer
Performed tasks involving physical labor at construction sites.
May operate hand and power tools of all types: air hammers, earth tampers, cement mixers, small mechanical hoists, surveying and measuring equipment, and a variety of other equipment and instruments.
May clean and prepare sites, dig trenches, set braces to support the sides of excavations, erect scaffolding, and clean up rubble, debris and other waste materials.
Constructed, installed, and upgraded residential foundations, flooring, insulation, and plumbing.
Installed custom cabinets for customers utilizing the latest state-of-the-art technology in energy efficiency.
Construction Laborer
Handled routine repairs to building such as installing or repairing electrical wiring, plumbing, drywall, painting.
Performed general construction labor task, including moving materials by hand, stripping and cleaning forms.
Operate motorized equipment including power tools, saws, hammers, nails, and bolts.
Consistently assumed additional responsibilities and worked extended hours to meet project deadlines.
Handled both residential and commercial repairs with other licensed contractors.
Construction Laborer
Learn entire process of remodeling a house through labor intensive work including demolition, flooring, designing, cabinetry, electrical, drywalling, painting, and trimming.
Install doors, cabinets, outlets, base molding, crown molding, custom beams, door trim, and more.
Ensure subcontractors are on time and meet the quality standards.
Interacted directly with customers to provide quality assurances of quality work.
Assisted a senior licensed engineer with annual reporting requirements for clients in the NYS Department of Labor.
Construction Laborer
Engaging in all forms of hard labor that is necessary for the completion of the construction project.
Ensuring that the construction projects kowtow to the set building regulations and codes.
Using, cleaning and maintaining the different tools used on the construction site.
Carefully handling hoists, cranes and other equipment used to handle the construction material's.
Was trusted to execute design plans by choosing from many choices to satisfy my clients' needs.
Construction Laborer
Completed tear-down of existing structures and prepared for new construction.
Dug trenches, backfilled holes and compacted earth to prepare for new construction.
Consistently assumed additional responsibilities and worked extended hours to meet project deadlines.
Maintained organization for hundreds of hours of demolition and construction debris.
Trained supervisors and employees in safe construction practices.
Construction Laborer
Assemble and Install Endless Swimming Pools by reading blue-prints and specific qualifications for each project.
Test, diagnosis, and repair machinery equipment for endless pools using technical manuals and various hand tools like wrenches, screw drivers, electrical testers, etc.
Measure, cut, and build cabinetry out of wood or composite material by using power tools such as circular saws, hammer drills, angle grinders, air-nailer, or hand-drills. Dig ditches or trenches, backfill excavations, or compact and level earth to grade specifications, using picks, shovels, pneumatic tampers, or rakes.
Tackled major projects, from ground-up to completion, on schedule, within budget, and with minimal enforcement by company management.
Respected as a "lifer," and frequently taken into consideration when salary increases were issued.
Construction Laborer
Using stand up loader and Plait jack Unload drywall/compound/metal from truck to buck horse and off load them neatly on specific floors of construction building.
Removed debris to prepare and maintain construction sites, and created safe working environments.
Provided comprehensive construction support to complete indoor and outdoor residential and commercial projects.
Moved materials and products with a forklift or elevating platform, to push, lift, and stack.
Performed work tasks over 100%: placed first in class; building a reputation as the hardest worker onsite.
Construction Laborer
Provided comprehensive construction support to complete indoor and outdoor residential properties.
Interpret blue prints and drawings to construct and remodel and or renovate existing structures.
Painted property interiors and exteriors using spray guns, brushes, and rollers.
During lunch breaks and on weekends, contributed to and completed construction of affordable housing units in the city.
Assisted in the construction of a new, state-of-the-art office building on campus.
Construction Laborer
Completed extensive work on reinforced concrete foundations, walls and slabs, structural steel building design.
Operated a range of equipment; pavement breakers, jackhammers, and power tools.
Helped other skilled employees including carpenters, welders and working engineers.
Removed debris and trash at construction sites by means of wheelbarrows and other equipment.
Worked with a team to create an underground tunnel connecting the parking lot to one of the university buildings.
Wrap Up
You need to make sure your resume stands out amongst the other candidates. It is the first impression that employers have of your work experience and skills. Use the samples above to put together a resume that best suits your needs and helps you get the job you want.