Aircraft mechanics conduct routine maintenance and repair on various aircraft. Their duties include running diagnostic tests, identifying the problem, ordering necessary parts, fixing problems, inspecting mechanical systems and keeping an accurate parts inventory. This role requires a certification from a technical school or the FAA. Aircraft mechanics must demonstrate knowledge of the aircraft, the ability to analyze systems, physical endurance, great communication skills, problem-solving skills, critical thinking skills and patience.
A good resume is well-written and concise. It should be neat and easy to read, listing previous experience in a logical order.
Our resume samples will provide you with multiple examples of what you can include when writing your resume.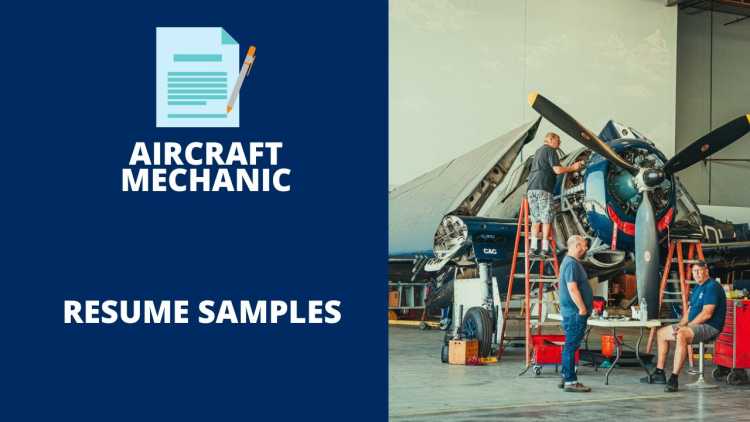 The Best Aircraft Mechanic Resume Samples
These are some examples of accomplishments we have handpicked from real Aircraft Mechanic resumes for your reference.
Aircraft Mechanic
Performed non-routine/routine maintenance, modification, alteration and inspection of aircraft in compliance with company and regulatory guidelines.
Conduct troubleshooting, application and disposition of Minimum Equipment List (MEL), Configuration Deviation List (CDL), Nonessential Equipment and Furnishings (NEF), and General Maintenance Manual (GMM).
Meet aircraft that transit stations, check aircraft maintenance logs, and respond to discrepancies entered into the log book.
Maintained an overall appearance of neatness and order.
Repaired defective components, adhesives, and seals to restore function.
Aircraft Mechanic
Responsible for aircraft maintenance, which include electrical, plumbing, structural and engine components.
Perform, troubleshooting, repairs, disassembly and assembly of aircraft components and parts, lubrication of aircraft components.
Performed lubrication on main nose landing gear, flight control, remove and replace serviceable tires, service engine, APU and components.
Read and interpret, maintenance manuals, service requirements, and other specifications to determine method of repair and/or replacement components.
Assessed and arranged for repair of faulty instruments.
Aircraft Mechanic
Maintain or repair aircraft, aircraft engine, aircraft components and avionics systems according to Delta and FAA specifications.
Performed assembly of parts and after repair or installation of components.
Understand basic knowledge of mechanical, electrical, hydraulic and pneumatic disciplines as they apply to aircraft systems.
Researched non-standard repair methods to maintain engines airworthy condition.
Performed many hours of instruction in maintenance procedures for junior mechanics.
Aircraft Mechanic
Inspected aircrafts for any component defects, break-outs, fluid leakages, etc.
Assemble and disassemble various components of aircraft during repairs and maintenance.
Performed maintenance, disassembly, rework, repair, replacement, re-assembly or adjustment of various aircraft components.
Trained to render assist with aircraft engine removal, overhauling, installation, and start-up when needed by the maintenance crew chief or supervisor on a rotating shift schedule.
Provided superior customer service and mentoring skills to all aircraft mechanics.
Aircraft Mechanic
Performed required or non-routine inspections, repaired aircraft and engines and all associated systems using safe, cost effective maintenance procedures in the hangar or the flight line.
Worked on Airbus & Embraer Aircraft to evaluate and troubleshoot faults pertaining to electronic, pneumatic, hydraulic, and electrical systems.
Completed mechanical work involved in the dismantling, overhauling, repairing,fabricating, assembling components on all systems of aircraft, engines, avionics equipment, and instruments.
Prepared, repaired, and modified aircraft components, such as fuselage sections, wings, tail sections and rocket pods.
Received the "Mechanic of the Quarter" award for superior work performance in protecting equipment from damage.
Aircraft Mechanic
Carried out daily inspections on all rotary aircraft /fixed wings aircraft as applicable and make appropriate role changes and replenishment when necessary.
Checked aircraft servicing forms to ensure forms are updated for maintenance action, check and ensure that deferment logs are up to date, check forecast sheet for component replacement or overhaul.
Rectify any ground support equipment which becomes unserviceable while carrying out task.
Carried out aircraft starts, towing, refueling, defueling, daily inspections, turnarounds and washing of all aircraft.
Taught and trained two new mechanics for a period of six months; successfully prepared the trainees for FAA certification test requirements.
Aircraft Mechanic
According to FAA procedures performed the maintenance and servicing of aircraft used for transportation and retained the related maintenance records.
Worked with all parts of aircraft including engines, electrical systems, temperature control systems, hydraulic systems, communications systems, and instrument systems.
Performed troubleshooting, engine run-ups, taxiing, towing, dismantling, repairing and assembling.
Initiated a repair procedure that resulted in lowering A&P Maintenance Labor costs by $100 per hour.
Improved overall skills by performing maintenance on several different aircraft models.
Aircraft Mechanic
Responsible for conducting routine inspections and maintaining aircraft systems and subsystems.
Assigned the tasks of troubleshooting and repairing aircraft systems.
Properly removed and replaced components in the pneumatic, hydraulic and electrical system while following proper maintenance procedure.
Acquired the proper maintenance manual or technical document required to perform duties.
Improved overall skills by performing maintenance on several different aircraft models.
Aircraft Mechanic
Performed phase maintenance inspections and line maintenance on Uh-60M and Uh60HH including A/L Blackhawks.
Removed and install UH-60 Blackhawk major components to include engines, rotor systems, flight controls, drive system, pneumatic and hydraulic systems, landing gear, and auxiliary power units, and generators.
Proficient in operating heavy machinery such as the forklift and crane to successfully tow aircraft.
Also the use of test and diagnostic equipment, hydraulic/servo valves, hydraulic actuators.
Certified in the use of many hand, power, and computerized tools.
Aircraft Mechanic
Performed/coordinated maintenance with flying squadrons assigned to major commands and other base agencies.
Responsible for all back shop, intermediate-level maintenance and local depot/contract field repairs.
Determined operational status and evaluated operational effectiveness of aircraft and associated systems.
Resolves, advises, and provides representation at the lowest level on mishaps and personal disputes within the contract agreement.
At one point I was responsible for supervising the management of all incoming parts to our department.
Aircraft Mechanic
Examine vital aircraft components, including landing gear and hydraulic systems, to lovate problems such as cracks and leaks.
Inspected fuselage, wings, and tail using x-ray and magnetic inspection equipment to check for corrosion, distortion and invisible cracks.
Utilized precision instrument and equipment to look closely at components like turbine blades for corrosion, cracks and other problems.
Initiated cross-training of mechanics to enhance positive morale and crew efficiency by learning new capabilities.
Achieved success producing flawless aircraft mechanics by teaching the step-by-step detail of each job.
Aircraft Mechanic
Technicians must be able to read and interpret technical and maintenance manuals, diagrams and blueprints.
Must document or record all work performed on Company provided logs, task cards, forms, tags or computer systems.
Job tasks also include the research and ordering of needed parts and determining appropriate repair action.
Gaining access to elevated areas of aircraft for maintenance and servicing may require the use of ladders, jet stairways, high lift trucks, boom lifts and other lifting devices.
Activities include climbing, standing, stooping, bending, kneeling, sitting, working overhead and extensive walking.
Wrap Up
You need to make sure your resume stands out amongst the other candidates. It is the first impression that employers have of your work experience and skills. Use the samples above to put together a resume that best suits your needs and helps you get the job you want.