Pharmaceutical Sales Representatives educate prescribers on the pharmaceutical industry and sell medications and treatments. Job duties are organizing marketing, making sales calls, client education on pharmaceutical products, build a professional relationship with customers, offer sales incentives and free samples, and record keeping. To work as a Pharmaceutical Sales Representative, you need a high school diploma or GED plus over 1 year of sales experience, but a Bachelor's degree is recommended. Pharmaceutical Sales Representatives need to be persuasive, knowledgable, have excellent verbal/written communication skills, have good presentation skills, organized, ambitious, and detail-oriented to be successful.
A good resume is well-written and concise. It should be neat and easy to read, listing previous experience in a logical order.
Our resume samples will provide you with multiple examples of what you can include when writing your resume.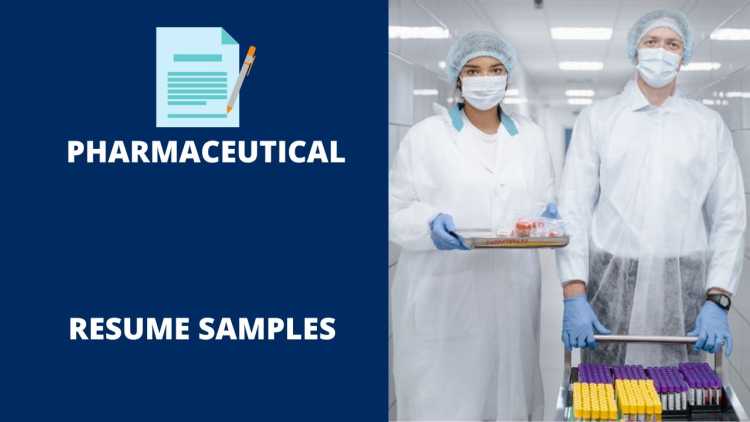 The Best Pharmaceutical Sales Resume Samples
These are some examples of accomplishments we have handpicked from real Pharmaceutical Sales resumes for your reference.
Pharmaceutical Sales Representative
Establish new business opportunities with primary care physician groups and other health service providers.
Engage in meaningful dialogue that addresses the needs of the health provider and patient.
Developing and implementing territory business plan in line with corporate strategy.
Continuously developing knowledge about current product lines and there applications.
Earned recognition as Young Drug Sales Leader with organization's third-highest monthly sales average.
Pharmaceutical Sales Representative
Identified and capitalized on sales opportunities by; pre-call planning, utilizing time management skills to be most effective on route, Setting appointments and luncheons based upon identifying doctors willingness to write, and possibility to move doctor.
Passionately inquired, informed, and challenged doctors in conversation to better understand current writing habits, obtain information necessary to change those habits, and ultimately move doctor to write products based upon the dissemination of facts and approved data.
Developed meaningful relationships with doctors as well as staff members by consistently following up with concerns, responding to questions and phone calls with a sense of urgency, as well as resolving those matters in a timely manner.
Solicited new accounts and built relationships with mainstream corporations during two organized meetings per week.
Effectively demonstrated and explained the benefits of the product to the inquiring company's employees.
Pharmaceutical Sales Representative
Responsible for acquiring new and maintaining existing independent retail pharmacy accounts, to position Colossal Health Inc. as their most valued wholesaler.
Offering branded and generic pharmaceuticals, diabetic supplies, and over-the-counter products, I play a vital role in assisting each pharmacy with the most cost effective approach to supply and demand.
Also responsible for managing customer expectations from order placement through delivery process, being proactive with communication to potential and existing accounts, and providing exceptional customer service.
Met organizational quota requirements while winning top sales by 33 percent.
Proven ability to discontinue negative practices in pursuit of success and self-betterment.
Pharmaceutical Sales Representative
Responsible for marketing asthma and COPD medications, and educating physicians about changes in the treatment protocols of each disease state.
Sales were achieved by developing close working relationships with providers as well as their staff.
These relationships included working with staff who specifically trained patients on inhaler use or handled insurance questions and authorizations.
Maintained regular routing which created first-name-basis relationships that ensured constant communication.
Established contact and maintained communication with top-ranking physicians in a particular hospital and helped them to understand new treatment protocols for heart attack patients, reducing the hospital's $800,000 patient liabilities by 25 percent.
Pharmaceutical Sales Representative
Day to day responsibilities consisting of supporting the promotional efforts behind company products including, organizing, tracking and distributing FDA regulated, branded sample products to health care professionals.
Maintain a current and competent level of knowledge on the product line to be a reliable source of information to the health care professionals in assigned territory.
Ability to work both independently and in a team setting towards meeting established objectives.
Apply a range of traditional and non-traditional problem solving techniques to think through and solve issues creatively to improve performance and company effectiveness.
Known as Outstanding Sales Representative of the Year.
Pharmaceutical Sales Representative
Analyzed market trends using business acumen to increase customers writing product by over 85%.
Understood internal and competitive products to effectively position portfolio and competitively sale against competition for appropriate patients.
Utilizing customer engagement skills to engage with total office and leveraging those relationships to grow market share by over 300% year over year.
Scheduled 2-4 weekly in-services and quarterly speaker programs to educate medical community about disease state and products.
Increased sales figures while training new field representatives, by 32 percent in the state-wide territory.
Pharmaceutical Sales Representative
Assisted team with all business acumen related issues including detailed business analysis tools.
Faculty Based Solutions Champ for my sales team, providing resources and guidelines to the team for our speakers and diabetes educators.
I expanded sales opportunities by persuading the Director of Pharmacy of The Regional Hospital in Sierra Vista, AZ to add Humalog to their hospital formulary.
Secured clients who demonstrated repeat business at 17 percent on a monthly basis over a six-month period.
Added an additional $500,000 of business to the top ten accounts by successfully negotiating with referring physicians and chief administrators.
Pharmaceutical Sales Representative
Limited to a 250 account client base, quarterly analysis was based on the relationship between both product use, and physician commitment to the products.
Responsible for the receiving, maintaining, and delivering of controlled products in a safe and secure environment.
Participated in weekly team conference calls, monthly district evaluations, and quarterly company training.
Promoted -defined products through sales procedures, high-detail delivery of product information to clients such as physicians, pharmacists, and patients.
Integrated sales objectives with finance objectives to develop long-term profitable customers on the basis of individualized needs and targeting expansion.
Pharmaceutical Sales Representative
Recognize impact of managed care in the territory and adapt marketing and sales strategies to maximize sales.
Utilized all available resources to assess and analyze territory market share and created thorough monthly reports on territory€™s market trends, obstacles, and competitive updates.
Generate volume and market share growth for assigned pharmaceutical products.
Utilized effective selling skills and product knowledge to influence targeted health care professionals in order to generate prescriptions.
Increased top-line volume from $1000 million to $1.8 billion in 5 years. Created over 200 key accounts totaling $800 million annually in this time period.
Pharmaceutical Sales Representative
Support promotional efforts behind our products: organizing, tracking, distributing FDA regulated sample products to health care professionals.
Maintain a current & competent level of knowledge of products to be a reliable source to health care providers & the Primary Care Sales Team in the territory to influence targeted clientele.
Track record of success in working independently & in a team setting towards exceeding established objectives.
Apply both traditional & non-traditional problem solving techniques to improve performance & company effectiveness.
Recognized by the company for achieving significant overall sales success and exceptional customer satisfaction.
Pharmaceutical Sales Representative
Developing territory strategies collaborating with key decision makers, doctors, vendors, and colleagues.
Establishing and maintaining positive relationships with medical professionals, which facilitated business and brand loyalty.
Proactive building in the diabetes select injectable market to serve as vital resource for diabetes management with a patient focus.
Analyzing and interpreting market share to identify managed care strategies for increasing portfolio business.
Proud to have been honored as one of the top 100 pharmaceutical reps in North America by Pharma Rep magazine in their annual survey.
Pharmaceutical Sales Representative
Increased territory sales ranking from No. 73 to No. 4, the fastest-rising sales ranking of any regional associate.
Increased number of new prescribing physicians by 2-3 per week in a highly competitive territory.
Apply understanding of disease state and drug efficacy to promote sales during daily clinical calls.
Successfully negotiated two million dollar account with the National Drug Distributors of America.
Negotiated two million dollar contract with a major pharmaceutical company.
Wrap Up
You need to make sure your resume stands out amongst the other candidates. It is the first impression that employers have of your work experience and skills. Use the samples above to put together a resume that best suits your needs and helps you get the job you want.