Nail technicians can provide manicures, pedicures, cleanings, and add other decorations or extensions to customer's fingernails and toenails. Their duties include building relationships with customers, providing manicures, pedicures, nail extensions, painting nails, giving consultations for nail and skin conditions, and selling products to care for a beautify nails. Most nail technicians have a high school diploma (or GED), and a state appropriate license or certification, though there are no strict qualifications required. Successful nail technicians have knowledge in nail care, dexterity, physical endurance, an eye for detail, an artistic mind, steady hands, customer service skills, and technical skills in using equipment like clippers, buffers, files, tweezers, and nippers.
A good resume is well-written and concise. It should be neat and easy to read, listing previous experience in a logical order.
Our resume samples will provide you with multiple examples of what you can include when writing your resume.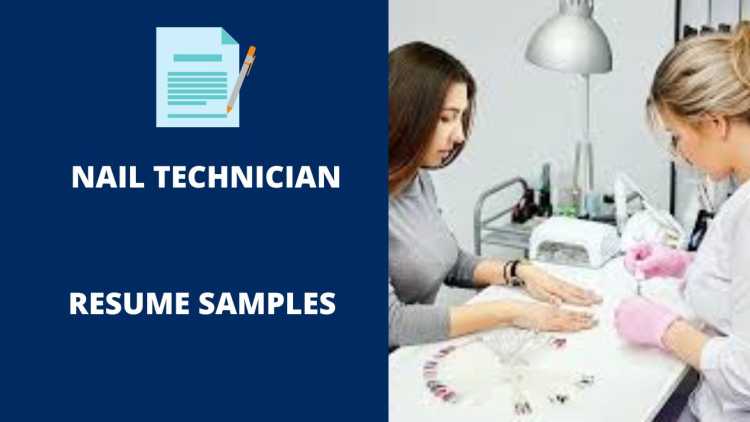 The Best Nail Technician Resume Samples
These are some examples of accomplishments we have handpicked from real Nail Technician resumes for your reference.
Nail Technician
Provided individualized nail services and treatments to clients such as, manicures and pedicures.
Maintained sanitary workstation to ensure a safe and sterilized experience.
Built customer relationships/ resolved complaints/ addressed questions/concerns.
Maintained a smooth flow of services for clients booked with multiple technicians.
Supervised the daily operation of a salon that generated $500,000.00 on an annual basis.
Nail Technician
Consistently build salon clientele by promoting business internally & externally, building relationships with each client.
Maintained knowledge of current manicure/pedicure techniques and styles to suit all nail needs & wants.
Proficient knowledge of conditions such as fungal infections, skin irritations, and diabetic patient maintenance.
Maintained a clean, neat workstation and tools, all in accordance with the OSHA and state regulations.
Maintained strict adherence to state laws concerning sanitation and infection control.
Nail Technician
Provided consistent professional nail, foot, and hand treatments in compliance with spa protocols as accepted certification practices.
Maintained and organized clean, well-stocked and secure working environment.
Performed prep work, cleaned properly, and restocked work environment as required.
Met monthly revenue goals by selling more products than anticipated by the organization.
Sold a product that was not liked but generated $25,000 in sales.
Nail Technician
Performed nail care services in accordance with company procedures, California laws, and providing exceptional customer service.
Comprehension of all products available in the salon in order to recommend the appropriate products to clients to address needs, problems, issues or concerns they may have.
Attend and participant in company meetings and training.
Achieved an annual revenue increase of 30 percent over the prior year's totals; sold 4,000 units of product with profit margins exceeding 10 percent.
Received certification as an American Board Member of the American Nail Association.
Nail Technician
Advise clients with information on goods and services to accommodate their needs.
Consolidated financial records of cash inflow and outflow to measure profitability daily.
Resolved complaints and addressed questions/concerns to meet customer satisfaction.
Addressed customers inquires and resolved customers complaints to maintain quality control.
Gained experience with acrylic, gel, and nail art designs.
Nail Technician
Softening nail cuticles with water and oil, pushing back cuticles using posher and trimming cuticles using a nipper.
Treating nails to repair or improve strength by wrapping or providing treatments to bitten nails.
Advising clients on nail care and use of products and colors.
Assessing the condition of clients' hands, with a skin exfoliation scrub, following a mask which rehydrate the skin, and finish with a smooth, relaxing massage.
Won first prize in a local fashion show modeling a fashion design in form-fitting leggings, top, and G-string athletic shorts.
Nail Technician
I m a newyork license holder nail technician since 2013 and 5 years of experienced in this field.
During work I performed customer services receiving and handling phones taking and arranging appointments , handling cashiers also as well doing customer nails and toes.
I am experienced doing gel polish and fixing nails like silk wraps and powder tip sets too.
Worked as a manicurist at a local salon specializing in natural and organic beauty products, taking pride in providing the highest quality customer service.
Worked as a patron at a local barbershop using power tools and chiseling skills to round out the professional image of customers while earning great respect from all levels of patrons.
Nail Technician
Provided guests with quality regular, French and glue manicures, pedicures, nail tips, wraps (silk and linen), acrylics, paraffin treatments, and temporary hair removal.
Maintained knowledge of current manicure and pedicure techniques and styles.
Handled guest problems or complaints according to Nail Spa guest problem resolution policy.
Taught students how to design and execute their own nail designs and designs for special occasions.
Introduced techniques to improve nail care, including cuticle care, manicures, and pedicures.
Nail Technician
I worked here as a nail technician who's job is to perform manicure and pedicure services in a professional manner.
We focused on making our clients the top priority and providing the necessary improvements to nail care.
Working here I was able to build my clientele and have a more personable relationship with them.
In this field clients are very important and taking care of them and gaining their trust is a must.
Developed techniques for treating skin conditions such as acne, eczema, dandruff, and psoriasis.
Nail Technician
Display charismatic personality in which make customer feel at ease to share their stories.
Quickly establish credibility and win over first-time customer to become loyal customer.
Educate and recommend available service options based on customer needs to meet and exceed customer experience.
Introduced new products including nail polish colors, nail tools, and tools for manicures and pedicures for clients.
Created artistic designs such as cheetah prints in acrylic nails with metal studs; demonstrated several services to clients.
Nail Technician
Highly detail-oriented and organized self-starter who works well independently to get the job done to the satisfaction of the client.
I'm a fast learner and can deliver results quickly.
Responsible Nail Technician/Cosmetologist with excellent communication skills demonstrated by 10 years of experience providing nails & hair services to satisfied clients.
Introduced Nail topics to new clientele.
Established and maintained strong relations with established clientele.
Nail Technician
I give services that help keep feet, hands and nails healthy and manageable.
I help to educate my clients on the importance of healthy feet and how to manage their feet with different conditions that they may have developed.
My services also give my clientele confidence and build their self-esteem through beauty and relaxation.
Trained new staff and hand-selected quality technicians.
Fulfilled customers' requests according to nail treatment procedure, attitude, and techniques.
Wrap Up
You need to make sure your resume stands out amongst the other candidates. It is the first impression that employers have of your work experience and skills. Use the samples above to put together a resume that best suits your needs and helps you get the job you want.