A Qc Chemist is a quality control chemist who guides the Quality Control department of a company. Their duties include processing samples of chemicals, examining finished products, troubleshooting, and repairing any equipment that fails. Educational requirements are a BS in Chemistry. Skills needed are mathematical skills, attention to detail, ability to train others, accurate record keeping, good communication skills, and ability to work well with others.
A good resume is well-written and concise. It should be neat and easy to read, listing previous experience in a logical order.
Our resume samples will provide you with multiple examples of what you can include when writing your resume.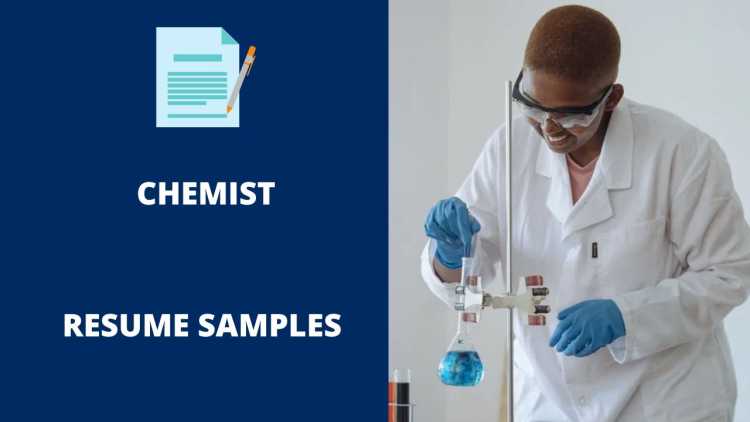 The Best Chemist Resume Samples
These are some examples of accomplishments we have handpicked from real Chemist resumes for your reference.
Chemist
Responsible for relevant chemical characteristic and performance testing on blendstocks, components and additives for electronic injection engines.
Established database and archived all research data on company drive.
Participated in upgrading our quality management system (QMS) to ISO 9001:2015 by reviewing and updating our QMS to comply with the new standard.
Responsible for ensuring risk based thinking is applied to R&D and QC processes.
Purchased and inventoried microscopes, analytical equipment, lab supplies, and retail chemicals.
Chemist
My responsibility was to keep the QC of this bio-fuel lab current.
I analyzed bio-diesel samples for acid number, soap, water, centrifuge, flash point, and cloud point.
I also tested the samples for cold soak, mono, di and triglyceride and oxidation stability.
After the complete testing was performed on finished product, a certificate of analysis was issued.
Performed basic laboratory analysis for new product testing of pharmaceuticals and other products.
Chemist
Performed QC extractions from solid and liquid samples in search of pesticides, PCB's, semi-volatiles and herbicides.
Batches consist of standard QC samples (MB, LCS, LCSD, MS and MSD).
Use various lab equipment including centrifuges, scales, syringes, vaporizers, pipettes, glassware and sonicators.
Created original study design and proposal for new lines of biotech products; developed analytical methods to assess product stability, packaging compliance, and quality control procedures.
Conducted final product quality audits for large-scale manufacturing facility under contract supervision; performed final product quality reviews for complex research projects.
Chemist
Responsible for all operational activities related to preparation and mixing of water treatment chemicals.
Worked exclusively with the owner to ensure quality polymer mixtures are delivered to client.
Develop and maintain a database of information to effectively track company's entire inventory spread across North America.
Produced eight patentable formulas for papermaking and water-soluble ink; earned $50,000 in royalties.
Maintained lab archives by maintaining drying/hauling/inventory of biological supplies and chemicals.
Chemist
Coordinated in building a new chemistry laboratory, purchased and installed lab equipment and analytical apparatus, and prepared laboratory SOP.
Conducted field oil and water sample collection, sample preparation, lab analysis and analytical reports preparation to support the oil field production and operation.
Provided Quality Assurance/Quality Control (QA/QC) to ensure the data quality and analytical activities in compliance.
Took on personal responsibility for communication and organization of staff on lab projects.
Assisted with the coordination of staff activities between departments to give assistant lax research assistants their due attention.
Chemist
Water purification plant sample analysis. Customer complaint sample analysis.
Bacteriological test for plant and distribution samples (Coliforms and E. coli P/A, HPC, Quanti-Tray, monthly QC).
Calibration and troubleshooting of instruments such as Titrators, Ion Chromatography,Turbidimeter, TOC, and UV/VIS.
Provided assistance to operators in chemical dosage adjustment determination of water treatment process.
Coordinated a project which involved designing, constructing, and testing a process to extract an organic compound from the air using molecular extraction.
Chemist
Utilizing the Horizon (LIMS) program for entering QC Standards, data, batching samples.
Scheduling and performing quality assurance analysis, performing daily calibrations and maintenance on laboratory equipment, record keeping and data entry.
Extensive experience in troubleshooting problems with instruments and getting those issues resolved in a timely manner.
Maintenance and calibration of all equipment that I have worked with in and out of the lab.
Maintaining laboratory stock, ordering supplies for testing, general housekeeping and proper cleaning of all equipment and glassware used for testing.
Chemist
Researched products for Alkaline-Surfactant-Polymer (ASP) and micellar flooding to greatly improve percentage of oil recovery.
Experienced with various of testing methods and proficient with time management.
Performed QC for newly designed friction reducer products to ensure good performance even under extreme conditions.
Innovated samples such as non-emulsifier, viscoelastic surfactant, CMC and Guar slurry, Nano-fluid and many others to meet customers' requirements.
Achieved recognition for excellence in the field of chemistry by superior work performance, resulting in an award of excellence that was endorsed by the President's Executive Council (ExCom).
Chemist
Multi-step synthesis and purification of novel fluorescent, mass differentiable and raman active nanoparticles to be used as markers for product authentication in oil, gas, currency, pharmaceuticals and brand packaging.
Characterization and screening of markers utilizing UV-Vis, Fluorescence, GC-MS, HPLC, Raman and particle size analysis.
Maintenance and troubleshooting of analytical instrumentation.
Developed new test methods and writing Work Instructions/SOPs.
Developed and carried out projects in water quality, polymer chemistry, data analysis, and analytical chromatographic methods.
Chemist
Worked with other Chemist in research and developing new lab procedures that help meet customer's requirement in the oil field.
Provides technical resolution support and assessment to field personnel in troubleshooting field issues.
Technical report writing including updating risk assessments and managements.
Set up laboratory for daily operations and conduct laboratory testing such as bacteria testing, complete oil analysis, water analysis, paraffin and asphaltenes analysis, solid test and so on by strictly complying with Current Good Manufacturing Practices (cGMP), Current Documentation Practices (cGDP), Good Laboratory Practices (GLP) and Standard Operating Procedures (SOPs).
Performed experiments using HPLC and gas chromatography-mass spectrometry; was familiar with chromatography theory prior to employment.
Chemist
Experienced using wet chemistry methods including pH, titration, color, turbidity and moisture testing.
Prepared and maintain functioning standards and solutions for general lab use.
Operate analytical instrumentation (FTIR, IC, ICP, PSA, TOC, and XRD) utilizing new and existing methodologies, as well as maintain and troubleshoot instrumentation.
Analyze QA/QC shipment samples, as well as raw, in-process and finished products and complete quality control reports summarizing results.
Trained to the full completion of a project concerning the Intermittent Explosive Device Neutralization Demonstration Project at the United States Air Force Weapons Laboratory.
Chemist
Responsible to possess highly developed analytical, problem solving, quality decision-making, customer focus, and people skills.
Worked interactively with team members from Research and Development and all Operations areas to determine technologies, processes, and methodologies pertaining to product testing and analysis.
Responsible for maintaining and supervising routine testing for incoming raw materials, in-process bulk, semi-finished, and finished goods according to specified test methods in the absence of Quality Manager.
Bred into laboratory teams and supervised several lab technicians in biomedical research techniques under their supervision.
Evaluated test results utilizing a new addition approach to solve project-specific problems.
Wrap Up
You need to make sure your resume stands out amongst the other candidates. It is the first impression that employers have of your work experience and skills. Use the samples above to put together a resume that best suits your needs and helps you get the job you want.